(Clearwisdom.net)
From March 19 to 20, the "Uncompromising Courage" Art Exhibition was held in front of a supermarket in the Plaza Medan Fair, a shopping center in a Chinese community in Medan City, Sumatra Province. During the two-day exhibition, countless people came to see the paintings. There were so many visitors and such a huge demand for information that every practitioner at the site barely had a chance to catch their breath! Furthermore, there were so many Chinese faces and each practitioner treasured every moment to tell them the truth about Falun Gong. During the two days, more than 10,000 copies of Falun Gong materials were distributed.
(Clearwisdom.net) Accompanied by her mother, twelve-year-old Elvelina attended the activities held by Nordic Falun Gong practitioners during the Easter holidays. She had a dream the night of March 26th, 2005. She dreamt that if she could make one thousand paper lotus flowers, the persecution against Falun Gong practitioners in China would end. She told the dream to her friend, another girl of the same age, when she woke up in the morning. The two girls started folding paper lotus flowers right away.
(Clearwisdom.net) On April 5, 2005, Wu Jialong, the deputy Mayor of Chonqing City and his delegation visited Brisbane, the Capitol of Queensland, Australia. Falun Gong practitioners took this opportunity to conduct a peaceful appeal calling for an end to the ongoing persecution of Falun Gong in China.
~ April 25 Events ~
~ Other Community Events ~
~ Voices of Support Worldwide ~
~ Journeys of Cultivation ~
~ Standing Up for Falun Dafa ~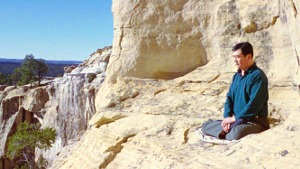 Master Li quietly watching the world from amidst the mountains after leaving New York following July 20th, 1999. (Published January 19, 2000)