(Minghui.org) Minghui Weekly and its local editions are urgently recruiting experts in screen printing plate-making from mainland China. The purpose is to provide ready-to-print materials for truth-clarification material printing sites, especially those run by individuals and families in mainland China.
(Clearwisdom.net) I used to suffer from rheumatism, heart disease, hepatitis, anemia, tracheitis, and many other types of diseases, which required me to take medication on a daily basis for many years. As a result of the side effects of the medication, I developed osteoporosis. The osteoporosis became so severe that I had five fractures in a row within a short period of time. I became bed-ridden and had to walk on crutches. Then I had another fracture. This time it was a fracture of my tibia. The doctor had to use pins to connect my fractured tibia. As a result of the multiple diseases and the surgeries, there was not a place in my body that did not hurt excruciatingly. I felt as if I were better off dead.
(Clearwisdom.net)
I am a retired professor from a large university in California. I have also been, in my life, a teacher of middle school, high school, all the way up through graduate school in various universities, a parish worker in the Lutheran Church, a counselor for five years on two university campuses for the division of college and university work of the National Lutheran Council, a spiritualist minister, a Jin Shin Jyutsu practitioner, and known to some as a healer (I have never called myself that). Several people have been asking me to share my story and background with the hope that it may be of value to someone who may be encouraged by it and my struggle to overcome my many weaknesses.
~ Beginning Cultivation ~
~ Falun Dafa's Divine Power ~
~ People in China Awaken to the Truth ~
~ Deaths ~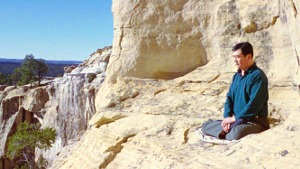 Master Li quietly watching the world from amidst the mountains after leaving New York following July 20th, 1999. (Published January 19, 2000)