White Plains, NY: Falun Gong Practitioners Invited Again to Participate in the St. Patrick's Day Parade (Photos)
March 20, 2005 | By a Falun Gong practitioner in New York
(Clearwisdom.net) On March 12, a large-scale parade for St. Patrick's Day took place in White Plains, New York. Groups from different ethnic communities participated in the event. Last year, Falun Gong practitioners' performance was well received and they were invited again this year. The organizers also provided free parking for Falun Gong practitioners this time.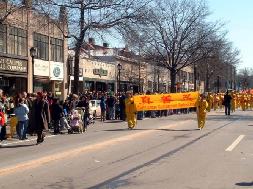 The Falun Gong procession in the parade
St. Patrick's Day was created to commemorate the Christian missionary St. Patrick, who brought the Gospel to Ireland in 432. He died on March 17, 493, so the Irish people made this day a holiday to commemorate him. The United States began to celebrate St. Patrick's Day in 1737. Usually there will be a parade, church activities and a community dinner party.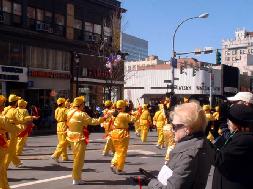 Spectators wave to Falun Gong Practitioners
In this year's parade, Falun Gong was the only group representing traditional Eastern culture. The procession was led by the Lion Dance team and followed by the Waist Drum team. The last team was made up of dancers performing the Green Lotus Flower and Celestial Maiden Dances.
The Waist Drum team of the Greater New York Area has participated in many large events. The procession marched in good order, and the bright yellow exercise suits worn by the practitioners were made a beautiful contrast against the blue sky. The "Celestial Maidens" danced in the chilly weather with soft fans, displaying the purity of cultivation practice.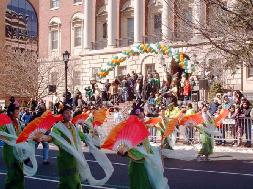 Celestial Maiden dancers pass the stage
When the Falun Gong procession was passing the stage, the host said, "What a beautiful group!" The spectators were kind and enthusiastic. They waved to Falun Gong practitioners and applauded warmly. Some children imitated the movements of the "Celestial Maiden Dance."
Reporters and cameramen pointed their lenses toward Falun Gong.
There are only a small number of Chinese people in this area, but when they saw the Falun Gong procession, many of them smiled and waved. A young couple from the Chinese Mainland saw the Falun Gong procession and said, "Falun Gong!" and took out a digital camera to take photos.
The country of origin of the St. Patrick's Day celebration, Ireland, has also embraced Falun Gong, as there are many practitioners in Ireland. Ireland's Prime Minister Bertie Ahern expressed his concern over the persecution of Falun Gong when he met China's Prime Minister, Wen Jiabao, in 2004. Both the Prime Minister and Deputy Prime Minister (Mary Harney) have made efforts to rescue Chinese international students persecuted in China.