The Most Outstanding Team in the South Taiwan Heritage Celebration (Photos)
March 12, 2005 | By Falun Dafa practitioner from Tainan Taiwan
(Clearwisdom.net) The once famous traditional celebration of "Eighteen Beauties" returned to the streets of Madou six years ago after being discontinued for 64 years. Soon it became one of the largest Lantern Festival Celebrations in Taiwan. In order to show the people of Madou the beauty of Falun Dafa, local practitioners participated in this rare Fa-promotion activity.
On the morning of February 26 2005, the first "Make-up Contest" started, with twenty-one teams participating. In the afternoon, the "Golden Dragon Parade" was the largest event of the day. A "Dragon" that had just won the world's record last year "flew" across the river and came to Madou County.
Young Practitioners in Parade
Young practitioners from the Tainan Minghui School participated in the "Make-up Contest" by performing on the Waist Drums. To the music of "Falun Dafa is good", the movements were in good order and the rhythm was quick and upbeat. The performance received continuous applause.
The young practitioners from Madou Minghui School performed the "Fairy Children Dance". The stage was full of Law wheels. After that, families of practitioners demonstrated the exercises in pairs as grandparents and children, parents and children, sisters and brothers, classmates, etc. The scenery was very peaceful and serene.
Exercise demonstration and dance performance
The performances came in succession, and the flags and banners of Falun Dafa were decorated around the stage. The audience could see "Falun Dafa" and "Truth-Compassion-Forbearance" from any angle.
That night, the practitioners from Kaoshiung, Tainan, Madou and Tsinying joined the parade of 32 groups. The Falun Gong procession was very impressive in the town's narrow streets. The banners, flags, proclamations and other pictures all pointed to the popularity of Falun Dafa.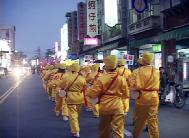 Waist Drum Parade
The waist drum parade received a warm welcome, as the spectators along the streets gave them continuous applause. The practitioners along two sides of the parade were very busy passing out flyers.
The people of Madou County experienced the beauty of Falun Dafa from the practitioners' performances. Many people raised their thumbs to encourage the Falun Gong practitioners.