(Clearwisdom.net) Minghui.Net correspondent Kelly Huang reports from San Francisco: On February 27, 2005, nearly 2,000 Falun Gong practitioners from across the world held a grand parade with the theme, "Journey of Fa Rectification" in San Francisco. The participants were from the U.S., Canada, Australia, Taiwan, Singapore, Korea and other Asian countries, as well as European countries such as Germany, Russia, France, and Iceland.
(Clearwisdom.net)
On Tuesday February 22, 2005, the Falun Dafa Information Center and Eastern US Falun Dafa Association held a press conference at the New York Press Club and condemned the Chinese Communist regime's phone harassment campaign against Falun Gong practitioners outside of China. Regarding a recent
Associated Press
article that is being used by the Chinese authorities to legitimize a five-year brutal campaign against Falun Gong, the practitioners at the press conference also urged the media to pay attention to their moral and professional responsibility to dig into the story of the Falun Gong persecution, find the truth, and report it.
The press conference venue
(Clearwisdom.net)
During the European Union meeting in France, Falun Gong practitioners held activities and collected petition signatures in support of Falun Dafa at the European Parliament building. Even though the weather was extraordinarily cold, practitioners staged an anti-torture exhibition to call on the EU and the world to pay attention to the brutal persecution that Falun Gong practitioners are suffering in China.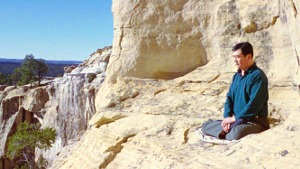 Master Li quietly watching the world from amidst the mountains after leaving New York following July 20th, 1999. (Published January 19, 2000)