Details Regarding the Torture Death of Practitioner Mr. Tian Junlong and the Situation of His Son, Tian Zhiyang (Photos)
February 27, 2005 | By a Falun Dafa practitioner in Yitong, Jilin Province
(Clearwisdom.net) Falun Dafa practitioner Mr. Tian Junlong, from Yitong County in Jilin Province, was brutally tortured at the Yitong County Police Department, Chaoyanggou Forced Labor Camp and Wuyi Township Police Station. As a result of relentless beatings, he passed away on September 16, 2003.
| | |
| --- | --- |
| Falun Dafa practitioner Tian Junlong | Tian Junlong's son Tian Zhiyang |
Tian Junlong's wife is 42-year-old An Liqin. They were a poor couple, who lived off a 1.48-acre crop field. Their home is adobe brick and consists of three rooms. Tian Junlong's sixth-grade son, Tian Zhiyang, is 14 years old. He attends Lianjia Elementary School in Yitong Town, Yitong County, Jilin Province. His mother, An Liqin, is now his sole caretaker and guardian.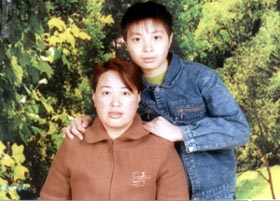 An Liqin and Tian Zhiyang
Tian Junlong was a 41-year-old farmer in Majia Village, Wuyi Township, Yitong County. He went to Beijing to appeal for Falun Gong in 1999 and was illegally detained. In 2000, Tian went to Beijing to appeal for Falun Gong and was sent to a forced labor camp for a year by Wuyi Township polic station. In February 2002, Huang Naiquan, head of the Politics and Security Section from the Yitong County Police Department and perpetrators from Wuyi Township Police Station abducted Tian Junlong in the middle of the night and brutally beat him. They broke the bridge of Tian Junlong's nose. His nose had to be supported by gauze afterwards and his chest was burned numerous times with cigarettes. He was sent to a local detention center that night and was sentenced to three years of forced labor. Mr. Tian was sent to the Weizigou Forced Labor Camp where he was cruelly tortured. Then he was transferred to the Chaoyanggou Forced Labor Camp in Changchun three months later.
When Tian Junlong was near death, the labor camp authorities sent him home on September 1, 2003, to avoid being held the responsible for his death. He could not talk and was bedridden. All he could do was watch his loved ones weep at his bedside. He passed away on September 16, 2003.
On the day of his passing, officers from the Wuyi Township Police Station went to his home to verify his death, which infuriated his family and relatives. Tian Junlong's father died from excessive grief on October 2, 2003.