European Practitioners' Chinese New Year Celebration Activities in Paris Chinatown: Part 3 - The Grand Parade (Photos)
February 25, 2005 | By practitioners in France
(Clearwisdom.net) On the 4th day of the Chinese New Year, hundreds of Falun Gong practitioners from all over Europe set off from the Republique Square in Belleville, the busy Chinese district of Paris, and held a grand Chinese New Year celebration parade through the city.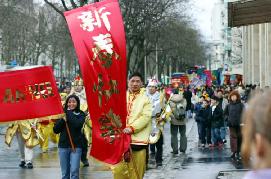 Joyous and peaceful Falun Gong contingent
The parade featured a waist drum formation, fan dancing, lotus flower dancing, practitioners dressed in the costumes of celestial beings such as heavenly warriors and maidens scattering flowers, a float with costumes from China's most prosperous Tang Dynasty period and a Falun Gong exercise demonstration. Festive gongs and drums, elegant, beautiful dances and firecrackers, traditionally used to drive away evil spirits, expressed Falun Gong practitioners' New Year greetings to everyone.
The preparation for this activity was full of twists and turns. In the beginning, the plan was to invite practitioners from other countries in Europe to come and hold a large-scale cultural parade and celebratory activities in Paris. Nevertheless, seemingly under pressure from the Chinese Embassy, the police only permitted a very short route for the parade. Facing these problems, French practitioners all agreed that it is very unusual for a parade in a democratic and free country to be controlled by the Chinese Communist Party's dictatorship, and that this must be exposed. But on whether or not we would still hold large-scale activities, there were disagreements.
Finally, after plenty of sharing, practitioners all agreed that the evil's intention is to force the practitioners to have smaller-scale activities or even no parade at all, in order to obstruct them from exposing the persecution against Falun Gong in China on a large scale. Therefore, practitioners realized that they must not only have a large-scale parade but it must also be a high-quality and magnificent event to sufficiently exhibit Falun Gong's beauty and attract the attention of the Paris people. At that time there were less than two days to go until the parade.
When we were clear in our understanding of this event, practitioners in charge of arranging the performances, preparing costumes and props, preparing leaflets and so on took full action. A lot of practitioners in other countries also overcame all kinds of difficulties and hurried to Paris. With strong cooperation and coordination, the event was a success.
Falun Gong contingent in the parade
Exercise demonstration on the float
During the parade, some Falun Gong practitioners carried photos of Falun Gong practitioners who have been tortured to death in China. They told the audience that on such a festive occasion as celebrating the Lunar New Year, in China, people who cultivate "Truthfulness-Compassion-Tolerance" are suffering torture and persecution. They cannot be reunited with their families to happily celebrate the Lunar New Year.
Calling for an end to the persecution
People learn the truth
The parade lasted for two hours. Tens of thousands of people witnessed the wonderfulness of Falun Dafa, and learned about the brutal persecution of Falun Gong practitioners. They used various ways to express their praise and support for Falun Gong.
Source: http://clearharmony.net/articles/200502/25055.html