Epoch Times: Chinese Attorney Exposes Human Rights Abuses in Shanghai Prison (Photo)
February 18, 2005 | By Guo Guoting
Special to The Epoch Times
Feb 16, 2005
Chinese attorney Guo Guoting wrote this letter detailing his efforts to defend a Falun Gong practitioner.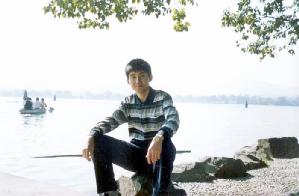 Qu Yanlai file photo. (Epoch Times archives)
Falun Gong practitioner Qu Yanlai is currently imprisoned near Shanghai. As his attorney, I have not been given permission to meet with him despite my repeated requests. Through the process of his detention, he has been physically abused and mentally tortured.

Qu graduated from the Energy Engineering Department of Shanghai Jiaotong University in 2000. He was the winner of the National Chemistry Olympics special award and received first place in the Mathematics Olympics competition. On July 20, 1999, despite the persecution initiated by the Chinese government, he began practicing Falun Gong, which is based on the principle of truthfulness, benevolence and forbearance; to exercise self-discipline and to be a moral and dignified person. He donated blood to schoolmates and all of his savings of more than 4,000 yuan ($US 482), accumulated through cutting daily spending, as well as his clothing and bedding to needy schoolmates.
He always exercised compassion, thinking of and helping others; teachers and schoolmates regarded him as excellent both in studies and in conduct. However, this outstanding student from a reputable school was secretly arrested, sentenced, and deprived of nearly all of his human rights purely because of his beliefs. Therefore, he began a hunger strike, refusing both food and water, using the most precious gift of human life as the price of fighting for freedom of belief, and to guard personal dignity and basic human rights.
At midnight on Sept. 30, 2002, Qu was abducted by the Shanghai police. He was officially detained on Oct. 2 and formally arrested on Nov. 2. A Putuo Court hearing was held on June 2, 2003, and on the same day, the Court pronounced the No. 324 (2003) criminal sentence: Qu was found guilty of "using a cult organization to damage the execution of the law" and was sentenced to five years imprisonment.

From the time of being abducted to the time of sentencing, his relatives had received no notification. When they discovered he was missing, his family members searched everywhere for him and spent about 100,000 yuan ($US12,062) to no avail. Finally, on July 2, 2003, they received the court verdict in the mail from Shanghai.
His mother wrote in her appeal: "We learned that Qu Yanlai was illegally sentenced to five years in prison. No one notified us of his whereabouts. In order to see my beloved son again, I came to Shanghai in the intense summer heat in August 2003, and called the court asking for my son's whereabouts. One judge said: 'You dare to call me? I will monitor you, I will arrest you. He already went back to his home.' If it had not happened directly to me, I really would not believe this. A judge casually talking about monitoring, arresting- who gave her this authority! I eventually went to the court to inquire, and this judge said, very annoyed: 'He is in the Putuo district jail. Do not come to ask me again!' I then went to the Putuo district jail, where a police officer said: 'He is in Qingpu jail.' I took a taxi to the Qingpu jail and waited for a couple of hours, but around noon, the gate guard said: 'There is no such person.' Do these judges and police officers have to be coldhearted, ruthless and apathetic to this extent?
"I called the Putuo district jail again, and was told that he was indeed in Qingpu! I immediately felt as if thunder was exploding around my ears! Where was my son after all? Why is that the court and the district jail people all concealed his whereabouts? Being a mother, my heart felt that it was pierced by a knife. A son was wrongfully arrested and unjustly sentenced, and I, as a mother, was deprived of even the right to know his whereabouts? Finally we learned from the chief justice that he was in the Tilangiao Prison. I rushed to the Tilangiao Prison. It was then after a year's effort and through repeated hazards that the mother and child got to meet and cry on each other's shoulders. Even the policemen present were all in tears."
Under the totalitarian authority, propaganda put out by the mouthpiece media's television, radio, newspapers and magazines recklessly continues to prop up the slander of Falun Gong. It has persisted over a long period, and has successfully fooled many people by creating inexplicable hatred toward Falun Gong, thus leading to a distorted public mindset and the loss of human nature.
To protest his unfair sentence, to maintain his freedom of belief and to guard his dignity and basic human rights, Qu Yanlai carried on a 780-day hunger protest- the longest and most impressive recorded in human history! During that time, he suffered many merciless beatings, as well as barbaric forced feedings causing four serious gastric hemorrhages; he was sent to the hospital for four months and declared critically ill several times. His parents traveled long distances from northern Daqing to Shanghai Tilangiao Prison to persuade their son to resume eating. Because he could not stand to see his parents suffering, he agreed to start eating initially, but because the prison firmly forbade him to practice Falun Gong in the prison, the strong-willed Qu, a staunch believer in truthfulness, benevolence and forbearance, continued fasting to protest for his proper legal rights, until his mother told him a genuine attorney was to defend him. Only then did he stop this protest, obviously placing a huge expectation on me, his defense attorney!
The Law states that an attorney has the right to meet with the litigant in custody, and the prison must arrange a meeting with the attorney within 48 hours. However, 103,680 hours had passed, and despite four applications to meet, the prison still illegally and blatantly rejects our meeting! Regardless of whether practicing truthfulness, benevolence, forbearance and telling the truth is a basis for guilt or not, Falun Gong practitioners, being citizens, should enjoy the very minimum rights of equality. Yet what crime did Qu commit in believing in truthfulness, benevolence and forbearance? Even the right to meet an attorney was illegally denied him over a long period of time!
This was written during 2005 Chinese New Year's Eve. Qu's mother, living in a far northern country, has conscientiously called me twice in this three-month period merely to inquire after my safety. What kind of caring and forgiving this is! I, being the defense attorney mentioned, having disappointed the litigant and being unable to withstand such heavy expectations, have no alternative but to expose what is really occurring in China's most advanced internationalized metropolis of Shanghai. The authorities do not respect the law; and the consequences for destroying the law are most severe. What kind of stability is there in such a "do as one wishes" law enforcement society? With such scorn for human rights, how can the grand Shanghai be called an "international metropolis?"
Shanghai Tianyi Attorney Office
Attorney Guo Guoting
Source: http://english.epochtimes.com/news/5-2-16/26439.html