Chinese Consulate in Osaka, Japan Refuses to Renew Passport of 65-Year Old Falun Gong Practitioner (Photo)
February 18, 2005 | By Qiu Guiqin from Japan
(Clearwisdom.net) I applied for the renewal of my passport with the Chinese Consulate in Osaka, Japan on the first day of December 2004. After more than a month, however, I have yet to receive my new passport. Furthermore, Consulate workers made several phone calls to my home, saying that my password would only be returned to me if I stopped petitioning for Falun Gong. They said that as long as I wrote a letter of guarantee, I could be given my passport. They also asked my family to persuade me.
The person making the phone calls sounded quite polite and addressed me as "Aunt Qiu." I asked for his name, but he gave no reply and only asked me to come to the Consulate at 10AM the next morning. But when I arrived there at 10AM, they again rejected my application and told me to come back at 2PM the same day. When I returned, the consul, Zhao, received me. Zhao said that I was against the government and couldn't be given a passport.
The reason why Consul Zhao said I was against the government is perhaps that I gone to the Consulate every day winter and summer to petition on behalf of Falun Gong. We practice Falun Gong to improve our health and get rid of our illnesses, and to live our lives in accordance to the principles of Truthfulness, Benevolence, and Forbearance. There is nothing is wrong with that. In China, the persecution of Falun Gong practitioners has been going on for more than five years. The number of people who have been tortured to death exceeds at least 1,353. How terrible! I go to the Chinese Consulate to petition every day because I hope that this cruel and inhuman persecution can be stopped as soon as possible, that all the practitioners of Falun Gong in China can one day have a peaceful environment to practice, and that they can all have the freedom to uphold their beliefs. Is this really asking too much?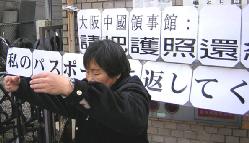 Qiu Guiqin, Petitioning before Chinese Consulate in Osaka, Japan, hoping the Consulate can return her the passport
I am 65 years old and have lived in Japan for 19 years. Ever since I began to practice Falun Gong, all the illnesses that I once had have gone away. What a great Qigong practice this is! There are people from more than 60 countries and regions who practice Falun Gong. Both Mr. Li Hongzhi and Falun Gong have received more than 1,000 awards and honors from all over the world. Only China persecutes us. Many lies, such as the self-immolation incident on Tiananmen Square have been fabricated to deceive and mislead everyday people. So many people in many different countries around the world practice Falun Gong, and nothing like self-immolation has ever been attributed to practitioners. During the seven peaceful years between 1992 and the beginning of the persecution, no such things happened in China, either. I believe that ordinary people can make their own judgment.
I am a legal citizen of China, now living in Japan. I hold a Chinese passport. This is the most basic right that a citizen should be guaranteed and enjoy. As staff members working in the Consulate for a country, it is their duty to issue a legal citizen a passport. I feel it is a disgrace that the consulate refuses to give me my passport!