Cruel Tortures Falun Gong Practitioners Suffer in Jilin Prison (Re-enactment Photos) - Part II
(Clearwisdom.net)
Part I - http://www.clearwisdom.net/emh/articles/2005/2/11/57390.html
Jilin Prison, whose full name is The Second Prison of Jilin Province, is located at 100 Junmin Road, Jilin City, and is a provincial prison. Jilin Prison claims that its management is civilized, that the facilities are perfect, and that it is a "model civilized prison" ready to be promoted to a departmental-level prison. Actually it is an evil den where innocent people are being tortured. The prison personnel primarily responsible for persecuting practitioners are the director of the prison Li Qiang, the former Political Commissar Liu Changjiang, the current Political Commissar Liu Wei, the former chief of the Education Section Tan Fuhua, the current chief of the Education Section Li Zhuang, officer in the Education Section Li Yongsheng, and prison guard Wang Yuanchun. They shouted, "In Jilin Prison, if I let you live for six days, you will be done for in five days." The confirmed deaths include practitioners Liu Chengjun, Wei Xiushan, Zhang Jianhua, and Cui Weidong. There have also been numerous cases of severe injury and disability due to torture.
Brutal beatings
Falun Dafa practitioner Mr. Cao Zhonghua is currently being held at Jilin Prison. When he clarified the truth to the inmates on June 1, 2004, inmates Zhang Dehui, Xu Guoming, Feng Zhenying and others beat him fiercely. They also tied him up and then beat him again until he was covered with bruises, his mouth was filled with blood, and three of his teeth were knocked out.
Afterwards, the inmates were not punished for beating him, and guards Zhao Jinbiao, Yu Tong, Li Yujie and others handcuffed Mr. Cao Zhonghua and sent him to a division where practitioners are tortured even more severely. There, Cao Zhonghua was brutally beaten and tortured with a method called "stretching," which left him unconscious due to severe injuries. The perpetrators took him to the prison hospital for emergency treatment. A witness said he was in critical condition.
| | | |
| --- | --- | --- |
| Re-enactment picture: tying up with ropes | Re-enactment picture: inmates beating Cao Zhonghua | Re-enactment picture: inmates beating and kicking Cao Zhonghua |
(The re-enactment photos shown in this article are based on descriptions given by the victims.)
Practitioner He Yuanhui was tortured to the brink of death. In 2002, the perpetrators in the 8th Ward intensified the "reform" campaign by forbidding practitioners from sleeping and inflicting physical and mental tortures on them. The guards ordered four inmates to hit He Yuanhui with wooden planks and claimed they would reform all the practitioners. The inmates hit He Yuanhui until the wooden planks broke into small pieces. He rolled on the floor in pain and his body was covered in bruises. His weight dropped drastically, and he became an emaciated shadow of his former self.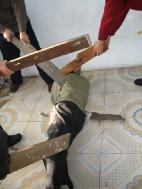 Re-enactment picture: four inmates use wooden planks to beat He Yuanhui, who rolled on the floor in pain
In October 2002, Wang Jiankong, a team leader in charge of "reform" work and guard Chen Xin in the 1st Ward tried to force a practitioner to write the Four Statements, which are the same as the "Three Statements", but include an "Acknowledgement of Guilt Statement," but the practitioner refused. When the authorities ordered inmates to drag him off his bunk, six inmates pinned him down and whacked his back, pelvis and buttocks with wooden planks. Gaping wounds were inflicted on his back, and his underwear was soaked with blood.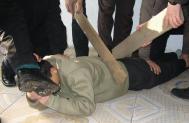 Re-enactment picture: six inmates pinned him down and hit his back and buttocks with wooden planks
On September 29, 2002, practitioner Wang Guiming was sent to Section 1 of the 7th Ward of Jilin Prison. Officer Li Yongsheng from the Education Section tried to force him to write the Four Statements, but he refused. The prison authorities then organized six inmates including Han Zhibin, Lu Sizhu, Zhen Lianwen, and Kong Qinggang to again pressure Wang Guiming to write the statements. The authorities promised each of the six inmates five points. (Extra points mean a sentence reduction or even early release.) After Wang Guiming went to his cell, inmate Han Zhibin kicked his chest repeatedly until he fractured Mr. Wang's sternum. Mr. Wang suffered excruciating pain and had difficulty breathing. At night, the inmates didn't allow him to sleep. Several days later inmate Lu Sizhu again demanded that Wang Guiming write the statements, but he firmly refused. Inmate Lu Sizhu grabbed Wang Guiming by his hair and repeatedly slammed his head into a wall. He punched Mr. Wang's thighs with his fists and pinched his ribcage with his fingers. Wang Guiming still refused to compromise, and inmate Lu Sizhu smeared a bottle of pepper water into Wang Guiming's eyes, causing extreme pain and copious tears.
| | |
| --- | --- |
| Re-enactment picture: inmate Han Zhibin kicking Wang Guiming's chest | Re-enactment picture: inmate Lu Sizhu violently hammed Wang Guiming's head against a wall |
| | |
| --- | --- |
| Re-enactment picture: Lu Sizhu fiercely clobbered Wang Guiming's thighs with his fists | Re-enactment picture: Lu Sizhu pinches Wang Guiming's ribcage |
Inmate Han Zhibin continued to torture Wang Guiming, while the perpetrators went to other wards to learn tips on persecuting practitioners. An inmate nicknamed "Gorilla" in the 4th Ward is very malicious. He taught inmate Lu Sizhu various torture methods. One of them is flicking the victim's eyeballs with the thumb and middle finger, after which the victim would experience great pain and his vision would blur. Han Zhibin used this on Wang Guiming.
Wang Guiming's cough became worse due to continuous persecution, and he suffered unbearable pains in his chest. On the seventh day, Lu Sizhu again ordered Wang Guiming to write the statements, and Wang Guiming again refused. Lu Sizhu then forced Mr. Wang to lie with his lower back against the edge of the bed and his upper body hanging above the floor. He was not allowed to move at all. Half an hour later, Wang Guiming collapsed. He felt nauseous and confused. It was a feeling worse than death.
| | |
| --- | --- |
| Re-enactment picture: flicking eyeball / eyelid | Re-enactment picture: Wang Guiming's lower back against the bed edge and hanging above the floor |
In the morning on the eighth day, the inmate perpetrators said if they kept torturing Wang Guiming this way he would die, and they would not be able to earn the five points. They thought of sending him to the "strictly controlled unit," where the "Death Bed" would break anyone's bones, and nobody could endure the pain. Then they said, "If we send him over there, someone else will end up earning the five points and we would have tortured him for nothing." They decided to continue torturing Wang Guiming. They pinned Wang Guiming to the edge of the bed while inmate Zhen Lianwen sat on his legs and inmate Han Zhibin raised Wang Guiming's head and then suddenly let it go. They did this repeatedly. He also deliberately pushed down on Wang Guiming's chest where the bone was broken, while inmate Kong Qingbin yanked his testicles. They gagged him with socks to prevent him from being heard. They tortured Wang Guiming for eight days.
| | | |
| --- | --- | --- |
| Re-enactment picture: inmate Han Zhibin raising and letting go of Wang Guiminng's head | Re-enactment picture: the inmates pushing down on Wang Guiming's fractured chest | Re-enactment picture: the inmates gagging Wang Guiming's mouth with socks |
Wei Xianghui, the head of the 6th Ward of Jilin Prison, said to the inmates, "Never go soft on Falun Gong practitioners." Cell bullies Li Ming, Zhao Guangcun, Liu Gan, and Chen Zhiqiang were even more malicious in torturing Falun Gong practitioners. Practitioners Teng Weiqiang, Xin Yanjun, Lv Ran, Wang Zhiqiang, Liang Zhenxing and Yang Guang were fiendishly beaten and tortured. The inmates squeezed the practitioners' testicles, stabbed the spaces between their ribs with their fingers, violently whipped them with rubber hoses filled with water, and dug into their backs with the hard heels of their boots. Before the 2003 Chinese New Year, when inmate Li Ming whipped practitioner Liang Zhenxing with a plastic tube, Liang Zhenxing's head hit a heating radiator when he fell to the ground. A large wound appeared on this head and blood spurted out. He lost consciousness. The prison authorities immediately blocked the news and warned the witnesses that they would be responsible for any consequences if they discussed what they saw.
Inmates, including Wang Cheng, beat practitioner Lei Ming for nearly one hour for his refusing to write the Four Statements.
The incidents described above are commonplace at the "strictly controlled unit" in the 6th Ward. Situations in other wards are very similar.
| | |
| --- | --- |
| Tool of torture: rubber tube | Re-enactment picture: the perpetrators repeatedly dug their heels into the practitioners' back and lower back |
Secret order: death from force-feeding counted as a natural death
Jilin Prison issued a secret order: "All Falun Gong practitioners holding hunger strikes are to be locked up in solitary confinement and in the strictly controlled unit, where they will be force-fed. Deaths as a result of force-feeding are counted as natural deaths." A number of practitioners, including Zhang Chunyu, Yang Feng, Zhang Hongwei, Liu Zhaojian, Lei Ming, Wang Juncheng and Liang Zhenxing, suffered force-feeding.
On October 20, 2004, when practitioner Sun Qian held a hunger strike, the perpetrators tore his nostrils when force-feeding him concentrated salt water mixed with a little corn porridge through a tube inserted in his nose. They didn't give him any water to drink afterwards.
| | | |
| --- | --- | --- |
| Re-enactment picture: brutal force-feeding tools | Re-enactment picture: the brutal force-feeding process | Re-enactment picture: nosebleed as a result of brutal force-feeding |
Dafa practitioner Yang Guang from Changchun City disabled from torture and not allowed to wear clothes
Dafa practitioner Mr. Yang Guang is in his fifties and lived in Changchun City. He was given a heavy prison sentence for persisting in Dafa practice. He was brutally tortured in Division 7 of the Changchun City Police Department. The police beat and tortured him and eventually broke his right leg. Mr. Yang's thighbone became dysfunctional, his hipbone became numb, and he was paralyzed. The police carried Mr. Yang on a stretcher when they moved him to Jilin Prison. There they put him in the prison's elderly and disabled ward. His right leg is paralyzed, and his toes have festered. He has now completely lost his ability to look after his own daily needs.
Mr. Yang's lower body is naked all year round. Because he was paralyzed in his lower body, the inmates made a small wheelchair-like cart for Mr. Yang to sit on and go to the toilet with. The small cart was made with a few iron rods welded together, covered with some wooden boards and four wheels underneath; in the middle there is a bowl-shaped hollow for him to defecate through. Every time Mr. Yang needs to go to the toilet, inmates will push him there and leave him unattended. Since the cart is covered with wooden boards on all four sides, Mr. Yang cannot reach his buttocks to wipe himself, and as a result he smells terribly and is very miserable. All year long he is forced to remain covered in urine and feces.
Re-enactment picture: a simple and specially made cart similar to a wheelchair
| | | |
| --- | --- | --- |
| Re-enactment picture: Yang Guang is half naked all year long and is confined to the cart | Re-enactment picture: Yang Guang relieves himself while sitting on the cart | Re-enactment picture: Yang Guang is pushed to the reception room sitting in the cart |
The authorities of Jilin Prison persecute innocent people while strictly blocking information to the outside. They lie to their superiors and to the practitioners' families, and they try their best to put on a fa硤e that the prison is a "civilized prison" while it is in fact a torture chamber. This article only exposes a tiny percent of all the crimes that take place in Jilin Prison. About 100 practitioners are still being brutalized and even murdered here.
Kind-hearted people, please join hands in resisting the persecution and upholding justice.
Officials and guards at Jilin Prison:
Li Qiang, head of Jilin Prison
Liu Wei, new Political Commissar
Liu Changjiang, deputy head of Jilin Prison
Li Zhuang, new head of the Education Section
Officers from the Education Section, Li Yongsheng, Wang Yuanchun and others
Liu Xianzhang, head of the Prison Administration Section
Geng, officer from the Prison Administration Section
Yang Xiaotian, deputy section head from the Prison Administration Section
Zhao Jing, division head of the 1st Ward
Wang Jiankong, team leader from the 1st Ward
Chen Xin, guard
Zhang Guilin, officer from the 4th Ward
Lin Zhibin, division head of the 5th Ward and extremely vicious
Zhang Jianhua and Guo Dongbiao, guards from the 5th Ward
Pang Hongjun, division head of the 6th Ward
Wei Xianghui, head of the 6th Ward
Zhao Jinbiao, Yue Tong, Li Yujie, and Zhang Yong are guards from the 9th Ward
Inmates who participated in the persecution:
Guo Shutie, an inmate from the prison team, promoted to head of "temporary work team" in Division 5 and continues to commit crimes against Dafa
Li Baocai, inmate from Liaoning Province, released
Li Gang, former inmate head in the 1st Ward
Liu Changhai, 2nd Ward
Xu Zhigang and Gao Guoguang, 4th Ward
Jia Yubiao and Zhao Yaolin, 5th Ward
Li Ming, Zhao Guangcun, Liu Gan, Chen Zhiqiang, Li Ming and Wang Cheng, 6th Ward
Han Zhibin, Lu Sizhu, Zheng Lianwen and Kong Qinggang, 7th Ward
Zhang Dehui, Xu Guoming, Feng Zhenying, 9th Ward
(Note: for phone numbers, dial country code + area code before all
numbers. Country code: 86, area code: 432)
Physical address of Jilin Prison in Jilin Province: No.100 Junmin Road, Jilin City
Zip code: 132012
Mailing address of Jilin Prison: Box 315 Jilin City, Zip code: 132012
Main switchboard: 4881551, Fax: 4881559
Prison Administration Section: 2409418
Procuratorate Liaison Office in Prison: 4881515
Court Liaison Office for the prison procurator's office: 4881559
Note: Recently, the prison shut down the automatic selection of division numbers from its main switchboard, fearing people might call and ask questions. Please dial the main switchboard 432-4881551 and ask directly for the division you want.
Jilin Prison Administration Bureau in Jilin Province
Address: No. 46-1 Xinfa Road, Changchun City, Zip code: 130061
(The area code for all numbers below is 431 for Changchun City)
Telephone: 2750011, 2750010
Discipline Inspection Committee: 2750061, 2750057
Prison Administration Division: 2750062
Party Committee: 5637493
Legal Committee: 5674524
Jilin Provincial Government
Address: No 11 Xinfa Road, Zip code: 130051
Main switchboard: 8919971
Judicial Department of Jilin Province
Address: No. 46 Xinfa Road, Zip code: 130051
Office: 2750217, 2750219
Jilin Province People's Procurator's Office
Address: No. 23 Great Jingyang Road, Zip code: 130000
Main switchboard: 7668118
Duty office: 7615769
The Secretariat: 7615764