Another Chinese New Year Without Reunion for Thousands of Broken Families - Part I (Photos)
(Clearwisdom.net) Clearwisdom correspondent Li Ming reports:
Chinese New Year is a time when families get together and celebrate the holidays.
This is the sixth Chinese New Year since Jiang and his followers began persecuting Falun Gong. For countless families whose loved ones were taken away or even tortured to death for their belief in Truthfulness, Compassion, Forbearance, it is a time spent in tearful recollection of the past. For them, the most important traditional Chinese holiday for get-togethers and happiness has lost its meaning.
The persecution has broken up countless families. Some families lost one member, and some lost several. Children have lost their parents; wives became separated from husbands; the elderly were deprived of the warmth and care of their children. Many Falun Gong practitioners are illegally held in prisons, labor camps and detention centers where they are subjected to severe physical and mental abuse. Many practitioners have no choice but to leave home in order to avoid illegal arrest and harassment. Some practitioners living abroad are denied passport renewals by the Chinese consulates for their belief in Truth, Compassion, Forbearance; therefore they are not able to return to China to unite with their families. Instead they are forced to rely on postcards, phone calls and emails to communicate their love to their families. The Jiang group's persecution of Falun Gong has destroyed so many happy families.
Let us take a look at the situation of several ordinary people's lives in China - Falun Gong practitioners and their families living under the terrorist persecution since July 1999, a time proclaimed by the Chinese Communist Party (CCP) as "the best human rights period in Chinese history."
Contents:
Losing Several Family Members to the Devastating Persecution
Losing a Mother at a Young Age, Losing a Husband or Wife in middle age, and Losing a Son in Old Age, All Because of Persecution
The CCP and Jiang's Group Commit Gross Injustice Against Falun Gong Practitioners and Their Family Members
Lies, Hatred and Implication Harm Innocent Lives
Overseas Falun Gong Practitioners Deprived of Their Right to Visit their Families in China, Simply Because of their Belief
1. Losing Several Family Members to the Devastating Persecution
A family is decimated
A household in Canfangying Village, Beixinpao Township, Huailai County, Zhangjiakou City, Hebei Province consists of seven Falun Gong practitioners: father Chen Yunchuan, mother Wang Lianying, older sister Chen Shulan and her daughter Li Ying, older brother Chen Aizhong, younger brother Chen Aili, and younger sister Chen Hongping. All of them benefited tremendously from practicing Falun Gong. Chen Yunchuan's back and leg cramps disappeared without any treatment; Wang Lianying's arthritis and asthma were cured and her temperament also improved greatly after she started practicing Falun Gong.
| | | |
| --- | --- | --- |
| Chen Aizhong (older brother) | Chen Hongping (younger sister) | The Chen family |
After the persecution of Falun Gong began on July 20, 1999, Chen Aizhong, the older brother, was illegally sentenced to three years of forced labor re-education in early 2001. He was sent to the No. 1 Forced Labor Camp of Tangshan City, Hebei Province on September 12, 2001. He died from torture eight days later. Perpetrators from the Donghuayuan Police Station in Huailai County abducted the younger sister, Chen Hongping. She was brutally beaten until both of her legs were broken. Ms. Chen was tortured for one-and-a-half years at the Gaoyang Forced Labor Camp, which led to her death on March 5, 2003.
On February 28, 2004, father Chen Yunchuan and his wife Wang Lianying and Chen Aili (the younger brother) were abducted and sent to the Shalingzi Brainwashing Center in Zhangjiakou City where they were tortured. They held a hunger strike in protest. Two months later, Chen Yunchuan and Chen Aili were released. However, perpetrators from the Beixinbao County Police Department sent people to monitor them around the clock. Chen Aili was in very poor health due to torture suffered in detention. On July 9, he left home in order to escape from the perpetrators constantly monitoring him. However, he was in terrible physical condition and grew weaker by the day. As a result, Chen Aili passed away on November 5, 2004.
On July 26, 2004, the father, Chen Yunchuan was taken to the Shalingzi Brainwashing Center for further persecution. On October 19, his wife Wang Lianying was released when she was at the brink of death, and Chen Yunchuan was released the same day. Shortly after their release, they experienced the loss of another son, Chen Aili
Right now, of the four children, older sister Chen Shulan is being illegally held at the Tiantanghe Female Forced Labor Camp in Daxing County, Beijing. Chen Shulan's daughter Li Ying is being held at the Cangping District Senior Nursery because there is no one in her family left to take care of her.
Dafa practitioner Yu Xiulan and daughter Li Haiyan in Inner Mongolia died from torture
Dafa practitioner Ms. Yu Xiulan was in her 60s, and lived in Dayangshu Town, Oroqen Autonomous District, Inner Mongolia Autonomous Region. She suffered from serious vasculitis in her legs and as a result she was often bedridden. Years of medical treatment failed to improve her condition as she struggled with the debilitating illness. In 1999 Ms. Yu started practicing Falun Gong and her health gradually improved. All of her illnesses, including the chronic ones, disappeared; Falun Dafa gave her excellent health.
After the persecution began, because Yu Xiulan refused to give up her belief in Dafa, and instead clarified the truth of Falun Dafa and the persecution to the people, she was illegally detained several times. On November 12, 2000, Bai Li, head of the Zhongyang Street Police Station in Dayangshu Town, and local police officers Liu Changxiao and Peng abducted Ms. Yu from home. She was illegally held at the No. 2 Detention Center in the Oroqen Autonomous District in Wulunbeier City, Inner Mongolia.
Later, Yu Xiulan was illegally sentenced to three years in prison and sent to the Baoanzhao Women's Prison. There, Yu Xiulan remained on a hunger strike for more than 50 days to protest the persecution, and she became emaciated. Later, Ms. Yu showed symptoms of a cerebral blockage. Her family asked for her release for medical reasons, but the prison authorities refused, and kept Yu Xiulan locked in a dark, solitary confinement cell. Ms. Yu died on December 22, 2002.
Two years later, Yu Xiulan's 30-year-old daughter, Li Haiyan, also a Dafa practitioner, clarified the truth to people and was abducted and tortured several times. She contracted tuberculosis during her incarceration and died at 4:00 a.m. on January 13, 2005. By 9:00 a.m. the same day, policewoman Zhang Xiling and the street administration committee head hurriedly took her body away to be cremated.
Yu Xiulan's husband, Li Jinrong, went to Beijing to appeal according to the law. He was illegally arrested and held at the Inner Mongolia Liaison Office in Beijing. He escaped and was forced into exile. Because the perpetrators in Dayangshu Town could not arrest Li Jinrong, they abducted his older son and held him in a detention center. Li Jinrong went to ask for his son and was illegally held for over eight months. He was eventually released after his family made numerous requests for release. Li Jinrong's son was released after 15 days of illegal detention. Li Jinrong was later illegally held for another 15 months for distributing Falun Dafa truth clarification materials.
Zhang Quanfu and his son tortured to death at the Chaoyanggou Forced Labor Camp in Changchun City


Zhang Quanfu and granddaughter
Zhang Quanfu used to suffer from osteo-hyperplasia, uremia and other serious illnesses. After he started practicing Falun Dafa in January 1999, all of his illnesses vanished and he was completely healthy. After the persecution began on July 20, 1999, Zhang Quanfu and his son went to Beijing to appeal to the government on behalf of Falun Dafa. The police often went to their home to harass them and illegally detain them. On the evening of March 6, 2002, the police took Zhang Quanfu and his son away and illegally sentenced them to one year of forced labor. They were sent to the Chaoyanggou Forced Labor Camp in Changchun.
During detention, Zhang Quanfu was tortured until his leg muscles atrophied and he could no longer walk. He had pus and blood in his stool and was extremely emaciated. The perpetrators dragged him up and down the stairs to the cafeteria and back. On January 2, 2003, Zhang Quanfu was tortured to death in Brigade 2, Division 6 of the Chaoyanggou Forced Labor Camp. It was learned that Zhang Quanfu was even denied his request for some water as he lay dying. Before he died, Wang Fuli, the prisoner on duty, still ordered him around, and police chief Li Zhongbo still slapped his face.


Zhang Quanfu's son, Zhang Qifa, also died from persecution
Half a month after Zhang Quanfu's death, his son, Zhang Qifa, was released on January 18, 2003, when he was at the brink of death. His body was covered with scars; his skin was black and hardened and covered with hard growths and hard boils. He could not walk because of pain in his legs, and he had difficulty breathing, speaking and making use of his bowel and bladder functions. Zhang Qifa died at noon on January 19, 2003.
Zhang Qifa's daughter Zhang Qi was only 15 years old at the time. She lost both her father and grandfather within 17 days, and the police often went to her home to harass her. The young woman is suffering tremendously, both emotionally and physically, due to the stress of the persecution and lack of proper care.
Dafa practitioner Mr. Bi Wenming in Longxi County, Gansu Province and his parents-in-law died from persecution
Mr. Bi Wenming was 34 years old and lived in the western suburban area of Longxi County, Gansu Province. He started practicing Falun Dafa in 1998. His father-in-law, Huang Zhiyi, and his mother-in-law, He Chunmei, began practicing Dafa around 1998. Ms. He Chunmei, 60 years old, was illiterate and very sickly before she practiced Falun Dafa. Several months after she started practicing Falun Gong, she not only became completely healthy, but was also able to read the book Zhuan Falun. In the 15 days during which Mr. Huang Zhiyi helped his wife to read Zhuan Falun, a six-year-old, unhealed post-operative wound healed on its own. He was very surprised by this miracle.
After the brutal persecution of Falun Gong began, Bi Wenming went to Beijing to appeal for Dafa in February 2000. When he returned, he was incarcerated at the Longxi County Detention Center and held there for one month. In December 2000, He Chunmei, her husband Huang Zhiyi, along with Bi Wenming and his wife went to Beijing to appeal for Falun Gong. He Chunmei and Huang Zhiyi were sent back and held at a local prison for six months. Bi Wenming was again illegally held in Beijing for one month and left home after he was released, to avoid further persecution.
In an attempt to arrest Bi Wenming and his wife, the local police monitored their residence, which they shared with their parents. The officials constantly harassed and exerted pressure on He Chunmei and Huang Zhiyi, threatening to arrest them if they didn't turn in their daughter and son-in-law to the police. Due to extreme mental stress, Huang Zhiyi suffered a relapse of his old illness and passed away on January 19, 2002.
In February 2002, Bi Wenming was arrested in Lanzhou City by police officers from the Qilihe Police Department. He was illegally held at the Xiguoyuan Detention Center in Lanzhou City and was then was sent to the Longxi County Detention Center. In 2003, Mr. Bi was sentenced to three years in prison and held at the Lanzhou Prison. In 2004 he was transferred to the Dingxi Prison. Guards Li and Zhang Jianying shocked Bi Wenming with electric batons. During the morning of September 3, the guards ordered two inmates to beat Bi Wenming. In the afternoon, five or six guards dragged Bi Wenming into a solitary confinement cell and tortured him with a high-voltage electric chair, which led to his death on the spot.
Bi Wenming's mother He Chunmei suffered tremendously from worry and grief, and passed away on September 30, 2004.
Dafa practitioner Yang Guiqin and her sister Yang Guijun in Jilin Province died from torture
Determined 47-year-old Dafa practitioner Yang Guiqin and her 43-year-old sister Yang Guijun, of Baiquan Town, Dongliao County, Jilin Province were illegally sentenced to over ten years in prison in late September 2002. They were sent to the Jilin Province Women's Prison. They died from torture in November 2002 and in June 2003, respectively, seven months apart.
Yang Guiqin was on the police "wanted" list. One abducted practitioner told the location of the Falun Dafa materials production site when he/she could no longer endure being tortured. On March 12, 2002, Zhao Zhenqi, City Party Committee Secretary, led more than 40 perpetrators in person, including the head of the city police department. They surrounded the Falun Dafa materials production site and abducted 15 Falun Gong practitioners, including Yang Guiqin and Yang Guijun.
The practitioners were tortured with the Tiger Bench; the police shocked their entire bodies with high-voltage electric batons and they stabbed the practitioners' fingertips, tips of their toes and neck with an "Imperial Court Needle." They hung the practitioners with their hands cuffed, and burned their heads and feet with lighted cigarettes. In the torture method, "Imperial Court Needle," the abusers used a needle to stab a person's fingertips, the tips of the toes and the area around the neck. The needles are extremely thin and they don't leave any marks on the flesh after being inserted into the skin. No blood is drawn, but this is extremely painful, and most people cannot withstand this torture.
Dafa practitioner Li Mei and her sister Li Jun in Anhui Province died from torture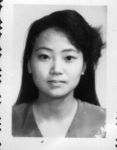 Li Mei
Li Mei was a very kind and unpretentious girl. She used to be very sickly but her health improved and she became more outgoing after she started practicing Dafa. She was very honest and kind-hearted. She gave up her position as an accountant to a disabled colleague and asked to be laid off. After the persecution began, she went to the Appeals Office in Beijing to clarify the truth about Falun Dafa and was abducted and beaten. In June 2000, Li Mei was sent to the Feidong Detention Center and was later sent to the Hefei Women's Forced Labor Camp. While in detention, severe beatings damaged her internal organs. She lost consciousness and was sent to the No.105 Military Hospital in Hefei City. On January 31, 2001, Li Mei's parents were told to visit their daughter at the No. 105 Military Hospital. In the hospital, Li Mei's family was surrounded by police and forbidden from approaching her. Li Mei's body was covered with a quilt. Only her head showed. Bloodstains were vaguely visible around her nose, corner of her mouth and her ears; there were bruises and lacerations on her face and her neck was enclosed in gauze. According to the doctor, Li Mei's cerebrum had withered, her internal organs failed, and she only had a faint heartbeat. Li Mei left this world on February 1, 2001, at the age of 28.
Because of the tight information control within the labor camp, details about what happened to Li Mei are still not known.
On December 24, 2001, Clearwisdom.net published updated news, verified through civil means: Li Mei's sister Li Jun also died from torture at the age of 30 for practicing Falun Gong.
(To be continued)