Thailand: Practitioners Condemn CCP's Police Atrocity in Front of Chinese Consulate (Photos)
December 08, 2005 | By a Falun Gong practitioner in Thailand
(Clearwisdom.net) At 11:00 a.m. on December 6, 2005, Falun Gong practitioners in Thailand went to the Chinese Consulate to deliver an open letter strongly protesting policeman He Xuejian from Zhuozhou City, Hebei Province who beat and raped women Falun Gong practitioners.
| | |
| --- | --- |
| Practitioners in Thailand condemn police atrocity in front of Chinese Consulate | Practitioners read an open letter in front of the Chinese Consulate |
Along the roadside opposite the Chinese Embassy, Falun Gong practitioners displayed banners reading "We Strongly Protest Hebei Policeman He Xujian Who Raped Falun Gong Practitioners," and displayed photo boards exposing the Chinese Communist Party's (CCP's) brutal persecution of Falun Gong practitioners. Many people in vehicles and passersby paid attention to this. A journalist from the Thailand Newspaper Manage said, "You should come here every day and let more media learn about this."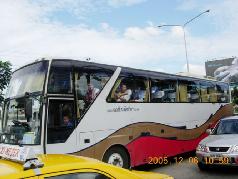 Chinese tourists on the big bus look at Falun Gong banners and photo display boards as the bus passes by
The open letter states that on November 24, 2005, a horrible rape occurred in Zhuozhou City, Hebei Province, China. During illegal interrogation at Dongchengfang Town Police Station, Zhuozhou City, policeman He Xuejian raped two women Falun Gong practitioners, Liu Jizhi and Han Yuzhi.
The heavenly duty of the police is to weed out the wicked and let the law-abiding citizens live in peace, and uphold justice. But under the CCP's policy of persecuting Falun Gong, vile policemen appeared in large numbers. He Xuejian used the excuse of "executing duty" and raped the women who are the same age as his mother. It is very degrading and inferior to even a beast.
For any society and country, the extent that women's rights and interests being protected is one of the symbols of the extent of its civilization. The fundamental baseline for morality is safeguarding women's dignity. While in the CCP's persecution of Falun Gong, many women practitioners suffer horrible persecution. As verified, 2790 practitioners have died as a result of the persecution. Among them, 54.7% are women.
Thailand Falun Gong practitioners hereby strongly protest and call for the international community to help stop the brutal persecution of Falun Gong happening in China, severely punish rapist He Xuejian and responsible persons, and bring chief perpetrators Jiang Zemin, Luo Gan, Liu Jing and Zhou Yongkang to justice.