Toronto, Canada: Condemning the Violent Crimes of the CCP's Police in front of the Chinese Consulate (Photos)
December 06, 2005 | By a practitioner from Toronto, Canada
(Clearwisdom.net) At 4 p.m. on December 3, 2005, despite the cold weather of more than 10 degrees below zero, nearly one hundred Falun Gong practitioners in Toronto area held a press conference in front of the Chinese Consulate at Toronto to strongly condemn police officer He Xuejian from Zhuozhou City, Hebei Province for raping female Falun Gong practitioner. The rapes occurred only three days after the United Nations' Special Rapporteur on Torture arrived in China for investigation.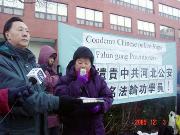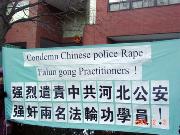 Condemning the Chinese Communist regime's persecution of Falun Gong in front of the Chinese Consulate at Toronto
At about 2 p.m. on November 25, 2005, when police illegally interrogated Falun Gong practitioners Ms. Liu Jizhi, 51 and Ms. Han Yuzhi, 42 at the Dongchengfang Police Station, Zhuozhou City, Hebei Province, officer He Xuejian impudently raped them.
Falun Gong practitioner Alice expressed in her speech that many vile police officers like He Xuejian, a rapist wearing police uniform, appeared in the process of Chinese communist regime's persecution of Falun Gong. It will be an utmost shame if one turns a blind eye on such an inhuman crime.
Alice called upon the international society to help stop the brutal persecution of Falun Gong that is still going on in China and severely punish rapist He Xuejian and bring chief perpetrators including Jiang Zemin, Luo Gan, Liu Jing, and Zhou Yongkang to justice.
Jeff represented the World Organization to Investigate the Persecution of Falun Gong (WOIPFG) to read out an announcement of investigating police officer He Xuejian from Dongchengfang Town Police Station, Zhuozhou City, Hebei Province who raped two Falun Gong practitioners. WOIPFG will further investigate corresponding institutions and persons who are responsible for the incident and persecution in general, for example, Yu Qun, Deputy Communist Party Secretary of Baoding City, and Party Secretary of Zhuozhou City, Hebei Province and Ma Wenhe, Director of the 610 Office of Baoding City.
Toronto resident, Falun Gong practitioner Ms. Li Xin who had been imprisoned in Beijing Women's Forced Labor Camp exposed the Chinese communist regime's atrocities with what she witnessed. She personally witnessed some female Falun Gong practitioners being sexually insulted.
Ms. Li Xin said that the rapes just occurred in Zhuozhou City is just one of such cases. There have been too many similar crimes under the Chinese Communist Party (CCP) rule. Ms. Li called upon the Canadian government and all kind-hearted people to take actions to stop the CCP's evil persecution of Falun Gong.
At the news conference in Beijing on December 2, 2005, the UN Special Rapporteur on Torture pointed out that torture is widespread in China. China is home to the world's biggest prison population and often uses torture and mistreatment to force innocent people to "confess." Chinese government should observe the basic international norm or human rights and the United Nations' constitution.