Ottawa, Canada: Practitioners Expose Torture and Rape under CCP Rule (Photo)
December 05, 2005 | By Ying Zi, minghui.ca correspondent in Canada
(Clearwisdom.net) On December 3, 2004, despite the cold weather of more than 20 degrees below zero, Falun Gong practitioners in Ottawa gathered in front of the Chinese Embassy to condemn the Chinese communist regime's more than six years of systematic persecution, torture and sexual abuse. They appeal to the world to bring He Xuejian, police officer from Dongchenfang Police Station, Zhuozhou City, Hebei Province and the chief perpetrators of the persecution, including Jiang Zemin, Luo Gan, Liu Jing and Zhou Yongkang, to justice.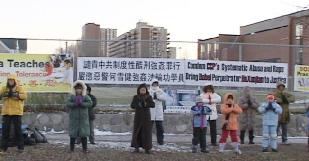 Ottawa Falun Gong practitioners protesting the persecution in front of the Chinese Embassy
Rapes occur again in the province where the persecution is most severe.
According to report from Clearwisdom.net, on the afternoon of November 25, 2005, when police illegally interrogated Falun Gong practitioners Ms. Liu Jizhi, 51 and Ms. Han Yuzhi, 42 at the Dongchengfang Police Station, Zhuozhou City, Hebei Province, officer He Xuejian impudently raped them. This brought great harm to both the victims and their families. In response, the Falun Gong Human Rights Working Group submitted an appeal letter to United Nations' human rights organizations and provided details of the rape case to Manfred Nowak, UN Special Rapporteur on torture.
According to investigations by the World Organization to Investigate the Persecution of Falun Gong (WOIPFG), since July 20, 1999, Zhuozhou City (a county-level city) in Hebei Province has launched brutal persecution against Falun Gong practitioners. Means it has adopted to persecute practitioners included illegally ransacking practitioners' homes, illegal fines, beating and physical torture, shocking women's breasts with electric batons and raping them. In addition, according to information provided by the Minghui/Clearwisdom website, in Baoding City, which Zhuozhou city is affiliated with, 67 Falun Gong practitioners are known to have died from the persecution.
The death toll is the highest in Hebei Province. In Hebei Province, 379 Falun Gong practitioners were confirmed to have died from the persecution, rated number one across China.
President of Canadian Falun Dafa Association Li Xun told this reporter, "This malignant rape case is definitely not an isolated case. It is the Chinese Communist regime's systematic persecution of Falun Gong that allowed it to occur. This persecution has been systematically carried out under the regime's rule. However, neither human world's law nor heaven's law would tolerate it. The evildoers will definitely be punished."
Torture and insults will not break the will of Falun Dafa practitioners
Falun Gong practitioner Grace Wollensak said in an interview, "When torture and other means could not move cultivators, the evil Chinese communist faction adopted an even more indecent means - insult and sexual abuse. As a police officer, indulged and protected by the Chinese communist regime, He Xuejian used such indecent way to attempt to force Falun Gong practitioners to succumb. This sufficiently indicates the Chinese Communist Party's insanity when confronting failure. In fact, torture and insult can not move genuine cultivators' determination in their belief. However, the evil party and it's accomplices' crimes speed up its annihilation. The evildoers will definitely be punished by heaven's laws."