Germany: Passers-by Stop to View Truth-Clarification Posters (Photos)
(Clearwisdom.net) People are excited about the coming of Christmas, so they were hurrying along to do their shopping. But they slowed down and even stopped after an unintentional glimpse at the truth-clarification poster boards between a railway station and a Christmas market. People were shocked at the brutal persecution of Falun Gong practitioners in China. Many signed their names to support the lawsuit against Jiang Zemin, the main culprit in the persecution, and to call for an end to the persecution.
On November 22, 2005, practitioners in Dresden and surrounding areas held an anti-torture exhibition for four days and exposed the brutal persecution of practitioners in China.
The practitioners' anti-torture exhibition became an important part of a photo exhibition to expose how the dictatorship of the communist party is trampling human rights. The exhibition was held by the German branch of the International Human Rights Organization (IGFM). In the opening ceremony, Mr. Lessenthin, IGFM spokesperson, mentioned the human rights violation across the world, including the inhumane persecution of Falun Gong practitioners in China. Then, a Falun Gong practitioner narrated his experience of suffering cruel abuse during his two-year unlawful imprisonment in China.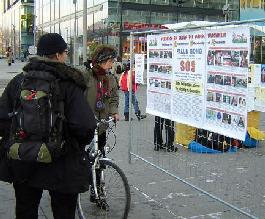 Passers-by slow down to learn about Falun Gong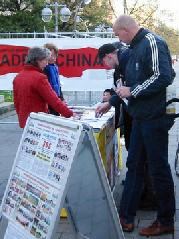 People pay attention to the persecution of Falun Gong
When the exhibition was held in Hannover on November 8, practitioners there also held an anti-torture exhibition to expose the tortures occurring in China. The vivid reenactment of tortures moved many passers-by.
One student said that he was participating in a seminar that was discussing the 2008 Olympic Games to be held in Beijing. He took some leaflets in both Chinese and German exposing the persecution of practitioners, and planned to tell other people about the human rights violations occurring in China.