Canada: Practitioners Protest During Chinese Ministry of Police Delegation's Visit to Ottawa (Photo)
(Clearwisdom.net) The Central News Agency (Taiwan) reported that on December 20, 2005, while a delegation of the Chinese Ministry of Public Security visited the Ottawa City Government, Falun Gong practitioners went to protest.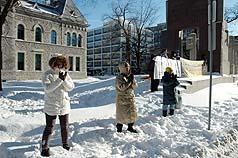 Practitioners protest in front of the visiting Chinese Police delegation
The 610 Office has rampantly persecuted Falun Gong practitioners in China for more than 6 years. It has been routinely using murder, brainwashing, imprisonment, intimidation and mental torture against practitioners. The persecution is still ongoing as the delegation visits Ottawa.
During the delegation's visit, local practitioners gathered in front of City Hall, next to the Human Rights Monument, to protest. Some of them were holding up banners and some were doing exercises in the snow. Local Falun Gong spokeswoman Lucy Zhou stressed that the Chinese Ministry of Public Security is notorious for human rights violations, and the Canadian government would not want to associate with it.
"We are here to remind Canadians of the reality of the Chinese police authorities," Lucy said.
While reporting the visit of Chinese police, Ottawa's mainstream media including the Ottawa Citizen and Global Post highlighted their objective opinions to remind Canadian government.
The Falun Dafa Association Canada also wrote to the city's Mayor and parliament members. Besides exposing the facts of the Chinese Communist regime's brutal persecution of practitioners, the association also attached the third letter that renowned Chinese human rights attorney Gao Zhisheng wrote to Hu Jintao, the Chinese President, and Wen Jiabao, the Prime Minister. In his letter, attorney Gao detailed the inhumane torture of Falun Gong practitioners by Chinese police. The association hopes that the Canadian officials could relay the contents of the letter to the Chinese delegation.