Spain: Practitioners Protest the Rape of Two Women Practitioners by a Chinese Policeman (Photos)
December 26, 2005 | By a Spanish practitioner
(Clearwisdom.net) On December 17, 2005, Falun Gong practitioners from Madrid went to the Chinese Embassy and held a peaceful protest to strongly condemn the rape of two practitioners by a Chinese Communist Party (CCP) policeman and demand that the Chinese Communist regime hold the rapist accountable. In addition, the practitioners read a Falun Dafa Association announcement, calling on Embassy staff members to stop assisting the CCP in the persecution and choose to be good for the sake of their own futures.
| | | |
| --- | --- | --- |
| Protest in front of the Chinese Embassy in Spain | Practitioner reads the Falun Dafa Association Announcement | Practitioners call for actions to bring Jiang Zemin, Luo Gan, Zhou |
Accompanied by the peaceful Falun Gong music "Pudu" and "Jishi," practitioners displayed banners reading "Falun Gong Is Good," "Stop Persecuting Falun Gong" and "Truthfulness Compassion Forbearance." They also displayed pictures which documented the CCP's countless human rights crimes during the persecution of Falun Gong and the practitioners' peaceful resistance to the persecution over the past six years.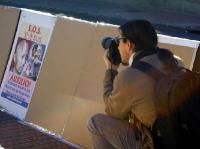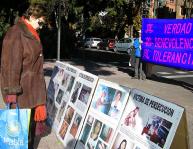 Passersby read the posters exposing the persecution
Many passing-by vehicles slowed down in order to view the banners and pictures clearly, and many drivers sounded their horns to express their support.
Source http://clearharmony.net/articles/200512/30588.html