Falun Gong Practitioner's Painting, "Homeless" Draws Attention from German Newspaper (Photo)
(Clearwisdom.net) The theme of the most recent edition of Donau Strudl, a street magazine from Regensburg, was "homelessness." The chief editor adopted a Falun Gong practitioner's painting, "Homeless," from the International Truthfulness-Compassion-Forbearance Fine Art Exhibition and expressed sympathy and concern towards the innocent Falun Gong practitioners and their relatives who have been made homeless by the persecution. Inside the magazine, a detailed description was written to explain the picture on the cover. Moreover, the magazine mentioned that this painting was displayed
during the International Truthfulness-Compassion-Forbearance Fine Art Exhibition held this September in the nearby city of Cham.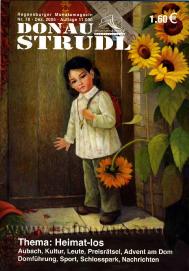 Cover of Donau Strudl with the painting, "Homeless"
On November 2, 2005, this painting was also printed in Chamland-Aktuell, a free weekly publication based in Cham. At that time, the Chinese leader Hu Jintao was just about to visit Germany. The newspaper agency published an article about Falun Gong practitioners calling on the Chinese government to stop persecuting human rights, especially the oppression of the peaceful Falun Gong practitioners. The paper reported on practitioners requesting the German Prime Minister to bring up the human rights issue with Hu Jintao.
http://clearharmony.net/articles/200512/30547.html