Taiwan: Book Exhibit at University Garden Party (Photo)
December 02, 2005 | By a Falun Gong Practitioner at Dong Hwa University
(Clearwisdom.net) The Falun Dafa Association of National Dong Hwa University participated in the Garden Party by invitation and held a mini book exhibit on November 18, 2005, the university's anniversary.
The theme of the garden party was "best sellers at discount prices." Members of Falun Dafa Association ordered some books for students and faculty to browse at the booth. They could either buy those books or ask practitioners to buy for them. In addition to Zhuan Falun, some other good books were also recommended at the Falun Dafa booth. Nine Commentaries on the Communist Party has recently created positive feedback in Chinese communities around the world. It recounts a candid history of the Chinese Communist Party and completely exposes its evil nature. The book has inspired six million people to withdrawn from the Communist Party and its affiliated organizations.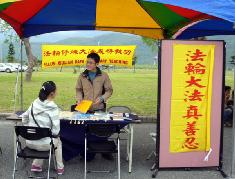 Chair of Falun Dafa Association recommends "Zhuan Falun" to a student.

Among the books were those edited by the Zhengjian Editorial Team like Unveiling Prehistorical Civilization and Today in Prophesy. There were also some books written by Falun Gong practitioners. Chair of Falun Dafa Association Mr. Li Jianhao said, "The founder of Falun Gong, Mr. Li Hongzhi, taught the most profound Way in the easiest words. His teachings are comprehensive. As long as you read 'Zhuan Falun' carefully, you will always gain something no matter how many times you have read it." He said that many practitioners have read the book dozens or even hundreds of times. He himself was trying to memorize the book. His heart had been upgraded through it. As of May, 2005 Zhuan Falun had been translated into 25 languages and published around the world.
Some students asked about the persecution of Falun Gong in mainland China. Associate Chair Mr. Cai Taixiang told them that one hundred million people practiced Falun Gong after its introduction in 1992. Out of jealousy, former head of the Chinese Communist Party (CCP), Jiang Zemin, could not stand to see more and more people following the principles of Truth, Compassion, and Forbearance. He launched the brutal persecution of Falun Gong in 1999.
Mr. Cai also told students that Falun Gong was mainly spread in thirty countries of Asia, North America, Europe and Australia before the persecution started. However, after six years of persecution, Falun Gong has been spread to most areas of the Asia Pacific region, North America, South America, Europe and even some countries in Africa. Falun Dafa and its founder have received more than 2490 awards and recognitions.
The book exhibit concluded at 3:00 p.m. Despite busy school schedules, students from the Falun Dafa Association were very happy to have this chance to introduce Falun Dafa to others, and to call attention to the brutal persecution.