Central News Agency: Taiwan Falun Gong Practitioners Delivers Protest Letter to Thai Trade Office (Photo)
(Clearwisdom.net) On the afternoon of December 16, 2005, Taiwan Falun Gong practitioners went to the Thailand Trade and Economic Office (TTEO) to deliver a protest letter regarding the Thai police's atrocious abuse of Falun Gong practitioners who were peacefully protesting opposite the Chinese embassy in Bangkok, Thailand on December 10, the international human rights day. The first secretary Ms. Boonnak of the office accepted the letter and expressed that she would quickly forward Falun Gong practitioners' request to the Thai government.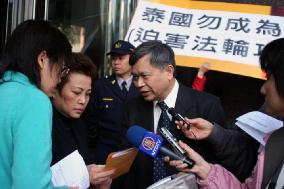 Director of Taiwan Falun Dafa Association Chang Ching-his (right) delivers a protest letter to Ms. Boonnak (2nd from left)
According to the report from Central News Agency (CNA) on December 16, around 20 members of the Falun Dafa Association in Taiwan held a small protest at the TTEO Friday afternoon to urge the Thai government to respect human rights. A Thai official expressed she would quickly forward the Taiwan Falun Dafa Association's request to the Thai government. The whole process was rational and peaceful.
Chang Ching-hsi, a professor at National Taiwan University's Department of Economics and the leader of the protest, said that the day's activity was mainly to protest the Thai police forcibly removing a group of Falun Gong practitioners who were peacefully appealing in front of the Chinese Embassy in Bangkok earlier this month.
After the Thai official accepted the letter, the protest continued for another 15 minutes.