Taiwan: A Unique Anniversary Fair (Photos)
December 18, 2005 | By Li Changbo
(Clearwisdom.net) Taiping Elementary in Taichung County held its 187th Anniversary Fair on December 10, 2005. The warm sun finally shone on this day after days of chilly, windy weather. The Falun Dafa Association at Taiping Elementary was established two years ago. Members of this group are children from the third to the sixth grade. They get together during lunch break on Wednesdays to read Zhuan Falun and do the exercises as a group.
The children were happy to know in early November that they would have a chance to demonstrate the five sets of Falun Gong exercises in front of the whole school and many of the children's parents at the anniversary fair. They think it is their honor and responsibility to introduce Falun Dafa. They rehearsed the exercises in the following weeks. The organization's sponsor teacher helped correct their movements. It was tiring sometimes, but nobody complained. It was a very peaceful atmosphere.
The children do exercises in a group
On the day of the Anniversary Fair, the children were so skilled in demonstrating the exercises to the peaceful music that everyone was fascinated. Teachers, students and parents were totally quiet and focused their attention on this group of innocent children. Some people couldn't help but follow their exercise movements. The demonstration received warm and long applause.
The Falun Dafa Association also collected signatures to rescue Falun Gong children under persecution in Mainland China. One student asked for a postcard to sign even before the booth was set up. A parent asked many questions about the persecution after watching a video about the children under persecution. She was shocked to know that such a brutal persecution of innocent people still exists in the 21st century. A mother and her daughter were in tears after watching the video. A Canadian signed right after reading the postcard.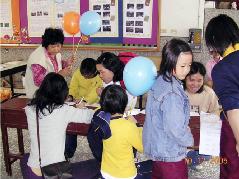 Signature collection to rescue Falun Gong children in Mainland China
The signature collection booth embodied the spirit of compassion, which made it stand out among all the booths at the fair. Many people asked for details after watching the video about the persecution of Falun Gong. About 500 people signed within one hour and a half. It was an unforgettable experience for the children and adults alike.