Israel: Falun Dafa Cultivation Experience Sharing Conference Held in Jerusalem (Photos)
December 10, 2005 | By a practitioner in Israel
(Clearwisdom.net) The third Israel Falun Dafa Cultivation Experience Sharing Conference was held in Jerusalem on December 4, 2005. Some practitioners from the United States, Sweden, Greece and other countries also participated in this conference. Sixteen practitioners shared their cultivation experiences on stage.
During the conference, Master's congratulatory letter was received. Practitioners were excited and read it out loud in Hebrew, English, Russia and Chinese.
The conference received two sharing articles from a Swedish practitioner and a Japanese practitioner. The former recounted that cultivation of Falun Dafa has made her become a confident and healthy person. She stopped having to take medicine to treat insomnia. The other practitioner shared that cultivation improved her life and made her relationships with her friends and relatives smooth. At the same time, she met and married her husband. They read Dafa books and cultivated together, and clarified the truth together.
| | |
| --- | --- |
| A practitioner shares his cultivation experience | A practitioner shares his cultivation experience |
A Greek practitioner said that she practiced Chinese martial arts for seven years but did not understand the real meaning of life. After she practiced Falun Gong, she became to understand that nothing in life can compare with cultivation of Dafa. She followed the principles of Truthfulness, Compassion, and Forbearance in her daily life.
A practitioner in Israel is an engineer. Before cultivation of Dafa, he wondered why people became worse and engaged in harming each other. After reading Zhuan Falun, he came to understand the universal principles described in the book.
Another practitioner from Israel is a university student. He shared his experience of improving xinxing while doing media work. He said, "If practitioners can cooperate well and put Dafa first, we can have many good things happen."
Another practitioner from Israel works at a corporation. She shared her experience in working as a coordinator. Coordination is not an easy work and requires great compassion on the part of coordinator. A good coordinator should consider others first even for tiny matters, and tolerates criticizing comments, which will help his improvement.
Before the conference, the practitioners held a Truthfulness-Compassion-Forbearance art exhibition in Tel Aviv on December 2-3 and a parade to demonstrate the grace of Dafa. In the evening, some practitioners continued a peaceful petition in front of the Chinese Embassy.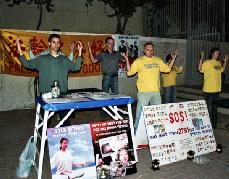 Peaceful petition in front of the Chinese Embassy