United Kingdom: Introducing Falun Gong and Exposing the Persecution in York (Photos)
November 08, 2005 | By a UK practitioner
(Clearwisdom.net) On October 30th, practitioners from northern England got together in York, which is a famous tourist city in the U.K., to introduce Falun Gong and explain the facts about the persecution. York is not so big, but it has a long history that can be traced back to Roman times in 71 B.C.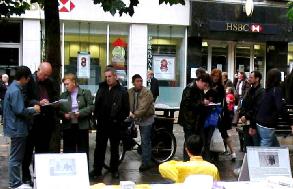 People passing by stop to learn about Falun Gong and the persecution in China
Although it was raining, many passersby were stopped by pictures of the cruel persecution of Falun Gong practitioners in Mainland China. They stopped to read the captions on the posters and practitioners explained the background of the persecution to them. After learning that innocent Chinese people are being suppressed by the Chinese Communist Party simply because they practise meditation and other exercises, many people signed the petition one after another. Though all the petition letters were soaked by rain to differing degrees, which made it difficult for the passersby to sign their names on them from time to time, they still tried their best to sign their names as clearly as possible. Many of them also wished us good luck after signing the petition.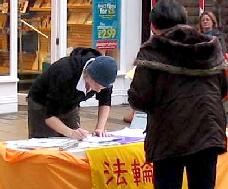 One after another, people sign the petition against the persecution
At 1 p.m., it stopped raining, and there were more and more people passing by. After viewing the display boards, a middle-aged lady, whose eyes were brimming with tears, asked a female practitioner how we wanted her to help. The practitioner told her that what we want is to put an end to this persecution by letting all of the world's people know about it.
Seeing a Chinese boy watching us for a long time, a practitioner approached him and handed him a leaflet. The boy said that he was anxious to know more about Falun Gong, and in the meantime, he was worried about China's stability and prosperity. To relieve his worries, a practitioner patiently told him that Falun Gong practitioners also support China's prosperity and stability. However, true prosperity and stability are different from the false impression of "a rotten interior beneath a fine exterior". Instead, they should be based on the principle of respecting morality and humanity. The Chinese Communist regime has relentlessly persecuted over one hundred million Falun Gong practitioners believing in "Truthfulness, Compassion, Forbearance". What's even worse is that more than one hundred million family members of these persecuted Chinese people are also affected. As such an intensive scope of innocent people is persecuted and their basic human rights are deprived, how it could be possible for China to have prosperity and stability? Only after China stops the persecution and respects human rights and "Truthfulness, Compassion, Forbearance", can it have true stability and longstanding development. The boy agreed with the practitioner's opinion.
After signing the petition, a middle-aged westerner told a practitioner that he lived in Hong Kong for about ten years, so he was aware that Falun Gong is something important. He often saw the activities held by practitioners in Hong Kong. Upon hearing that, practitioners deeply felt that all the practitioners around the world are working together like one body.
Before the activities were about to end, practitioners took a look at the petition and they were pleased to see that so many people signed their names to support justice.
Source: http://clearharmony.net/articles/200511/29714.html