Ms. Jia Guilan Dies of Grief Because Her Daughter and Son-in-Law Were Persecuted to Death (Photo)
(Clearwisdom.net) Practitioner Ms. Jia Guilan, 69, from Huanan County, Heilongjiang Province, fortunately obtained Dafa along with her spouse in 1996. After cultivating and practicing Falun Dafa, many of her old age diseases completely vanished. When her daughter Yuan Hezhen went to Beijing to appeal on behalf of Falun Dafa after the persecution started on July 20, 1999, her daughter was "arrested" and brutally tortured by the police. As a result, Ms. Yuan Hezhen died in July 2003. When Ms.Yuan's husband Mr. Sun Jihong went to Beijing to validate Dafa on September 25, 2002, he was illegally arrested and tortured to death. Ms. Jia was heartbroken, and died on March 3, 2005.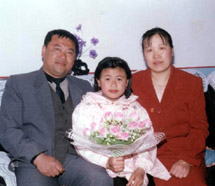 Mr. Sun Jihong and Ms. Yuan Hezhen's family
Mr. Sun Jihong was the former chief of the local police station of the Huanan Forestry Bureau Public Security. Because he persisted in his belief of "Truth, Compassion, Forbearance," he was illegally abducted and detained many times. On September 25, 2002, Mr. Sun was kidnapped once again and imprisoned in the Yuquanying Crossing-Bridge Place in the Fengtai District of Beijing. On September 29, 2002, after four days, he was tortured to death by police. His body was gruesome. There was a hole between his eyebrows and two holes in his cheeks. His whole body was covered with cuts and bruises.
Ms. Yuan Hezhen was the former director of the Huanan Forestry Bureau's Savings Bank of the Huanan County Industrial Commercial Bank. In May of 2002, she was illegally arrested in Beijing. She suffered from merciless beatings, painful handcuffing, forced feeding, and other brutal tortures. She suffered serious injuries, and her health deteriorated each day. In July 2003, she died.
Mr. Sun's grandmother, Ms. He Guizhi, was extremely sad. She lost the sight in both eyes because her grandson and grand-daughter-in-law were persecuted to death and she could not take legal action. On December 3, 2003, she died of great sorrow. Only Mr. Sun's 82-year-old grandfather, Mr. Sun Xueren, is left in the family, and he takes care of Mr. Sun's daughter, Sun Yubo, in order to get through these hardships.