Truth-Compassion-Forbearance Art Exhibits Warmly Welcomed Across Taiwan (Photos)
November 29, 2005 | By Guo Feng
Photo by Zhen Yi
(Clearwisdom.net) From November 18 to 24, a Truth-Compassion-Forbearance Art Exhibit was held at the Ilan University library. The exhibition has been held in many countries around the world, in America, Europe, Asia and Australia. Since February of this year, the exhibition has been held in 12 cities and 11 universities and colleges across Taiwan, and warmly welcomed everywhere.
The paintings in the Truth-Compassion-Forbearance Art Exhibit were from artists with different backgrounds. They are expressing their understanding and experience after practicing Falun Dafa and exposing the brutal persecution of practitioners in China over the past six years. The paintings demonstrate the noble spirit of Dafa practitioners following Truth, Compassion, Forbearance. The exhibits let more people know the facts and help end the persecution.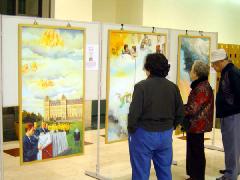 Senior citizens view the paintings. (The painting is entitled "People's Court". To inform the public about the dictator's brutal persecution of Falun Gong in China, practitioners conducted symbolic public trials. The painting depicts the trial in front of Parliament in Ottawa, Canada.)
At the exhibition hall, Falun Dafa introductory materials, CDs, bookmarks and other items were placed for viewers to read and take.
The exhibition was hosted by the Falun Gong Club of Ilan University. In Ilan County, Falun Gong clubs have been set up at Ilan University, Fo Guang University, Lotung Industrial Vocational High School, Ilan Commercial Vocational High School, and Huey Deng High School. Four teachers in the Lotung Industrial Vocational High School have practiced Falun Gong for years. They participate in exercise demos during holiday celebrations.
On May 9, 2004, practitioners were invited to demonstrate the exercises in a hospital celebration
Many of the teachers started to practice Falun Gong after attending a Falun Dafa Teachers Study Camp. During the last five years, study camps were held in every county in Taiwan during the summer and winter breaks. Practitioners with special skills in each field, such as professors, lawyers and doctors, were invited to introduce Falun Gong to teachers and staff in high schools and primary schools. The activity was welcomed by the education bureau, school presidents and teachers.
On July 4, 2004, a Falun Dafa Study Camp was held at both Ilan High School and Su-AO Marine & Fishery Senior Vocational School at the same time
Practitioners organizing the exhibit said, "Falun Gong has won more than 1300 awards around the world for its marvelous beneficial effect on health. In Taiwan, Falun Gong is praised from senior government officials to all social circles. It is a big contrast that Falun Gong is persecuted brutally in China and that many practitioner teachers and students have been forced to leave school and stay away from their homes. In Taiwan, teachers and students can practice freely and many Falun Gong clubs have been established. Ilan practitioners hope that more people will come to know about the brutal persecution in China and help end this tragedy."