Thirty Cases of Falun Gong Practitioners Tortured to Death Confirmed in October (Photos)
November 26, 2005 | A comprehensive report by Minghui reporter Gu Anru
(Clearwisdom.net)
According to statistics from information on the Minghui (Chinese version of Clearwisdom) website, 30 torture deaths of Falun Gong practitioners in October 2005 have been confirmed through independent channels. Since the onset of the persecution on July 20, 1999, by the Chinese Communist Party (CCP) and Jiang's rogue regime as of November 5, 2005, the CCP is to blame for at least 2,778 of those deaths from brutal, genocidal persecution.
The 30 cases confirmed in October include 16 female practitioners. This accounts for 53 percent of those killed. Eighteen of these practitioners were over 55 years old, accounting for 60 percent of those killed. According to statistics from information on the Minghui website, 390 Falun Gong practitioners were tortured to death from January to October in 2005.
The 30 torture deaths occurred in 12 provinces and municipal cities in Mainland China. Seven of these deaths occurred in Hebei Province, four each in Heilongjiang and Liaoning Provinces, and three in Shandong Province. Two deaths were reported in each of these locations: Beijing, Chongqing, and the Provinces of Hunan and Henan. One death occurred in each of these locations: Tianjin and the Provinces of Sichuan, Hubei and Shanxi. The causes of death varied. Some of the practitioners were beaten to death by personnel from the "610 Offices," some died in prison or labor camps, and some died from recent persecution initiated by Zeng Qinghong and Luo Gan, members of CCP's Jiang rogue regime.
Practitioners Ms. Lu Lihua and Mr. Xu Zhicheng Tortured to Death During the Latest Round of Persecution in Heilongjiang
Recent rounds of persecution initiated by Zeng Qinghong and Luo Gan account for nearly one hundred practitioners arrested and at least two deaths. The deceased are Ms. Lu Lihua from Harbin City and Mr. Xu Zhicheng from Hegang City. Following is their story:
Ms. Lu Lihua, born in August 1962, was a self-employed businesswoman. On Friday, September 23, 2005, Harbin City police mobilized a large police contingent to conduct indiscriminate mass arrests. At around 6:00 a.m., the police arrested Ms. Lu at her home and sent her to the No. 2 Detention Center in Harbin City without a warrant. She was already dead when she was sent to a hospital at 7:30 p.m. on the evening of October 2. According to insiders, there were many purple bruises on Ms. Lu's face, chest and back.
Mr. Xu Zhicheng, a practitioner in his 40s, worked at the Department of General Affairs at Nanshan Mining in Hegang City, Heilongjiang Province. He was arrested on September 26, 2005. He was detained for three days without a warrant and sent to Hegang City Second Detention Center, where he was tortured to death on October 2. Mr. Xu Zhicheng's body is being kept in the Dissection Room in the Second Detention Center. His face and body have many areas of apparent injury. His nose and lips were covered with blood, and there were other blood-spattered wounds on his body. The police destroyed the cameras belonging to Mr. Xu's family members when they tried to take photos for evidence. Mr. Xu's family has refused to cremate him and are preparing to file a lawsuit.
Practitioner Mr. Yuan Shengjun Tortured to Death by 610 Office Police
At around 5:30 p.m. on October 25, 2005, practitioner Mr. Yuan Shengjun escaped unnoticed from police custody. He was being held at the People's Hospital in Jiyuan City, Henan Province. He escaped with the power of righteous thoughts after carrying out several days of a hunger strike. He ran to the home of a villager in Nantao Village, Chengliu County, Jiyuan City.
Mr. Yuan Shengjun was later surrounded by the police. The police forced officials in Nantao Village to sign a death certificate even before Mr. Yuan Shengjun had died. They dragged Mr. Yuan Shengjun to the crematory and beat him to death on the way. According to those who know, Mr. Yuan Shengjun's eyes did not close after his death, and his mouth was wide open. One hand, arm and his fingernails were totally black; his back was totally black and blue, and one of his legs was greenish purple.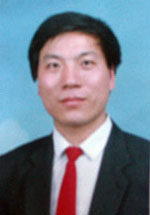 Yuan Shengjun
Mr. Yuan was born in 1963. He held a bachelor's degree and lived in the family dormitory of Jiyuan City Electricity Bureau. He had worked as a teacher, a lawyer, an engineer, and an assistant to the general manager at a corporation and as head of Jiyuan City Materials Bureau. Mr. Yuan started practicing Falun Dafa in 1997 and quickly recovered from chronic heart disease and high blood pressure. During eight years of the practice he never got sick.
After starting to practice Dafa, Mr. Yuan conducted himself strictly according to the requirements of Dafa. With improved morality his heart and mind became pure and he was very healthy. He was popular and well liked and was promoted to the position of head of the Jiyuan City Materials Bureau in July 1999. Mr. Yuan worked hard, refused to take bribes, and treated people fairly. He received high scores from the bureau employees.
In July 1999, the CCP regime led by Jiang Zemin began persecuting Falun Dafa. In November 2000, Mr. Yuan wrote an open letter to Jiang, then general secretary of the Central CCP Committee, in which he clarified the truth about Falun Gong. Officials from the Judicial Bureau arrested Mr. Yuan. The Jiyuan City 610 Office insisted that Mr. Yuan was the main person in charge of Falun Gong in Jiyuan City, so they sentenced him to three years in prison. They held him at the Jiyuan Detention Center and at the Zhenzhou City Prison and released him in November 2003. During his incarceration Mr. Yuan was savagely beaten, shocked with electric batons, and subjected to brainwashing. He was also terminated from his job.
At 11:30 a.m. on March 30, 2005, Wang Mingli, head of the Jiyuan City National Security Division, and political secretary Wang Guoyou led members from the 610 Office to break into Mr. Yuan's home and ransacked it. After failing to find any Dafa-related material, they still tried to arrest him. Mr. Yuan refused to cooperate with them and told them the truth about Falun Gong. They called 110 [equivalent to 911 in the US] and asked for police officers, who came and arrested Mr. Yuan and took him to the Jiyuan City Detention Center the next day.
Mr. Yuan held a hunger strike to protest the illegal detention. On the eighth day, he was sent to the No. 1 People's Hospital in Jiyuan City, where he was brutally force-fed. On April 29, Jiyuan City Police Department officials issued an arrest warrant and forbid Yuan Shengjun's family from visiting him.
At the detention center, Mr. Yuan told the people assigned to monitor him stories of his Falun Gong practice as well as Falun Gong's principles that teach people to be good. Many people were moved by his words. The officials at the Jiyuan City 610 Office were afraid the guards would listen to Falun Gong principles and "soften up," so they changed guards every few days.
After six months of detention, an illegal trial was secretly held on September 22, 2005. After 15 days, Mr. Yuan Shengjun was sentenced to six years in prison on October 7.
Since no incriminating evidence was presented at the trial, Mr. Yuan's wife and his mother, who is in her 80s, decided to appeal the ruling. Unfortunately, within two weeks, on October 25, the 610 Office police beat Mr. Yuan to death. There was not a single patch of skin intact on his body, and congealed blood could be seen underneath the skin. The body was in a wretched condition.
Yuan Shengjun's family demanded an autopsy, but the police refused. The next day the police secretly cremated the body before his family could look at it. Afterwards, they sent many plainclothes police officers to Mr. Yuan's family to take pictures of practitioners who were paying condolences, as the police planned to persecute more innocent practitioners.
Mr. Yuan Shengjun was deprived of his life at age 42 by Jiang's group, and he left behind his mother in her 80s, his wife, and his 13-year-old son.
Ms. Wang Xiuhua Suffers Severe Nerve Damage and Dies Due to Persecution

Wang Xiuhua
Ms. Wang Xiuhua was 51 years old and lived in the Mentougou District in Beijing. On October 30, 2004, Ms. Wang and another practitioner, Liu Zhenxia, were illegally arrested. The police from the National Security Section of the Mentougou District Police Department arrested the practitioners when they were distributing truth clarification materials near Tanzhe Temple. The police ransacked the practitioners' homes and sentenced them to two years of forced labor. On November 25, 2004, Ms. Wang was taken away and sent to the Tuanhe Dispatch Division in Beijing. In mid-December 2004 she was transferred to Group 2, Division 6 at the Kaiping Forced Labor Camp in Tangshan City, Hebei Province.
On June 22, 2005, authorities from the Kaiping Forced Labor Camp in Tangshan City phoned Ms. Wang's family and told them that she had been diagnosed with "intestinal obstruction" and "electrolyte abnormalities" and told her family to take her home. When her family saw Ms. Wang, she couldn't think or respond clearly. She had a blank look on her face and could not move her arms or legs. The labor camp authorities forced her family to take her home.
Her family rushed Ms. Wang to the hospital for emergency treatment. Aside from urinary retention, Ms. Wang suffered from nausea and vomiting, and showed other abnormalities such as the inability to think clearly, a blank stare, the inability to speak, immobility of arms and legs, and loss of feeling in the lower body, all of which are typical symptoms of severe nerve damage.
Her symptoms were alleviated through medical treatment and she stopped vomiting, but she still had urinary retention and had to stay on a catheter. The damage to her central nervous system did not improve. On July 15 Ms. Wang suddenly stopped breathing and resuscitation efforts failed.
Mr. Peng Geng Tortured to Death for Not Giving Up His Belief
Mr. Peng Geng, 31 years old and a former policeman of the Liaoning Provincial Public Security Bureau, was suspended from his duties because he firmly practiced Falun Dafa. He was illegally detained and tortured in Masanjia Forced Labor Camp and other labor camps or prisons. When he became terminally ill, the court and prison both agreed to release him on medical grounds, but the 610 Office in Shenyang City refused to release him. On July 14, 2005, Mr. Peng was tortured to death. In the final moments of his life, Peng Geng still told his family members, "Falun Dafa is good."
Mr. Peng was from the Xinglongtai District in Panjin City. After July 20, 1999, he repeatedly went to Beijing to validate Dafa and clarify the truth. Because of this he was suspended from his duties by the provincial Public Security Bureau. Under the influence of the slanderous propaganda against Dafa by the CCP, Mr. Peng's parents did not understand Falun Gong cultivation and watched him day and night, but this did not shake his will to practice Dafa. When the Public Security Bureau personnel ordered him to write a self-criticism, he wrote down "Falun Dafa is good" instead.
The public security bureau was responsible for sending Mr. Peng to the forced labor camp. After he heard about the staged self-immolation in Tiananmen Square, he walked out of the camp with righteous thoughts. He went back to Panjin City and took part in preparing truth-clarifying materials. Because he was good at operating a computer, the materials he made were well done and produced in large quantities. Later, someone turned him in to the police, and the provincial public security bureau again sent him to a forced labor camp. He went on a hunger strike and broke out of the camp again. After returning to Panjin he continued with truth-clarification materials production and later he went back to Shenyang to work at the truth-clarification materials production site there.
According to a witness, Mr. Peng Geng was detained in the "strict monitoring team" of the forced labor camp at Wujiabaozi in Fushun City and was forbidden to speak. When in the male team at the Masanjia Forced Labor Camp, Mr. Peng was repeatedly tortured. He was beaten to the point where he was cut and bleeding, and salt would be smeared into his wounds. Some guards forced practitioners to kneel on rocks under the burning sun while holding heavy objects on their backs. After the practitioners told the guards that torturing people was wrong, the guards assaulted them even more viciously. Many practitioners were beaten unconscious, and some practitioners' wounds were untreated and festered to the point of being infested with maggots. In order to cover up their crimes, the Masanjia Forced Labor Camp officials disbanded the Sixth Male Team, and most of the practitioners were transferred to the Zhangshi Forced Labor Camp.
On August 12, 2002, Mr. Peng Geng and other practitioners were arrested. Before the arrest, one practitioner notified fellow practitioners who were preparing materials so that they could transfer the materials safely. At the end of 2002, Mr. Peng was sentenced to 13 years of imprisonment and sent to the Shenyang Prison. He went on a hunger strike to protest the persecution of Falun Gong and vomited blood in large amounts. His life was in danger. The guards shouted at him, "You'll not be released even if you die of hunger." Because of a recurrence of pulmonary tuberculosis, he was sent to the Shenyang Prison Hospital and later to the Tieling Prison. He was then detained in the Tieling Hospital.
While in prison, Mr. Peng maintained his firm belief in Dafa. When he was at the brink of death, the court and prison both agreed to release him on medical grounds, but the Shenyang City 610 Office police refused to do so. On July 14, 2005, Mr. Peng Geng died from persecution.
Ms. Cao Yue Dies After Being Tortured in Wanjia Forced Labor Camp
Ms. Cao Yue was an employee at the Terylene Factory in Acheng City, Heilongjiang Province. Because of hepatitis, tinnitus, pharyngitis, sharp canthus conjunctivitis, rheumatism, hypotension and other ailments, she had difficulty working and doing housework, and had thoughts of suicide. After she practiced Falun Dafa, her ailments disappeared, and she became healthy in body and mind.
Jiang Zemin's faction began to arrest Falun Gong practitioners on July 20, 1999. On the eve of the 2000 Chinese New Year, the police arrested Ms. Cao for the first time, because she still practiced Falun Gong. Officers from the Chengbei Police Station in Acheng City and Chief Wang Weimin took Ms. Cao to the Second Detention Center. She was verbally abused and beaten with a broom, a plastic tube, and a leather belt while cold water was poured over her. The prison personnel hung her by her handcuffs from a window casing for five days. Thirty-six days later, she was released after paying a bail bond of 10,000 yuan, 8,000 of which has been refunded.
Ms. Cao tried to go to Beijing to appeal for Falun Gong. Local police withheld her identification card and she was intercepted. Ms. Cao was sent to a forced labor camp for two years. She was held in the 12th Division of the Wanjia Forced Labor Camp. During her detention she was not allowed to study the Fa or practice the exercises, and she was pressured to "reform." Seven female practitioners were sent to a men's prison. Guards from the men's prison monitored them. They were hung by their handcuffs, tied to a bedpost with a rope, or made to squat on the concrete floor. At night they slept on the floor in the male guards' office. The conditions they had to endure were unspeakable. Liu Hui, the head of the 8th Division, even said that he would send female practitioners to male inmates' cells and they could do whatever they wanted with them. Ms. Cao was tortured for eight days.
Because she refused to be "reformed," to write a guarantee statement, or to recite the prison regulations, the prison guards hung Ms. Cao and other practitioners in a "small cell" and shocked them with electric batons. Dafa practitioners were physically tortured and mentally tormented. She was tortured by guards from the men's 5th Division. Two malicious persons, Chen Shi and Wang Deng, participated in the gross abuse and torment.
She was not released at the end of her term. Her term was extended to January 18, 2002, because she did not "reform." After Ms. Cao Yue was released from the forced labor camp she was very weak and often had severe stomach pain. She passed away at the end of September 2005.
* * * * * * * * *
Each case represents a huge debt, and each debt is like a rope or chain. Good deeds will be rewarded and bad deeds will punished. All debts must be paid. Heavenly laws rule over all, and each bloody debt owed by the Chinese Communist Party and Jiang's rogue regime during their genocidal persecution of Falun Gong will have to be repaid. That day is coming.
November 5, 2005