New Zealand: Snapshots from the Touring Photo Exhibition, "Falun Dafa Practitioners Validating the Fa" (Photos)
(Clearwisdom.net) The touring photographic exhibition, "Falun Dafa Practitioners Validating the Fa" visited the Brikenhead district of Auckland on November 17, 2005.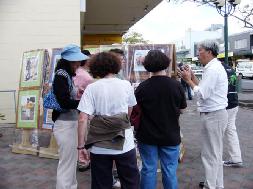 Many people came to learn the facts about Falun Dafa and the persecution
After having looked at and appreciated all the photos, an elderly Chinese couple had a souvenir photo of themselves taken in front of a "Falun Dafa is Good" banner. The practitioners invited them to sit down to have a brief break. They said that they came from Henan Province and were more than 80 years old. They know that Falun Dafa is good.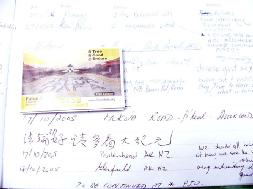 In the guest register, the couple wrote: "Falun Gong is good, please read the Epoch Times more"
While appreciating the photos, a young Chinese woman told a practitioner, "I left China because I knew the Communist regime was so vicious."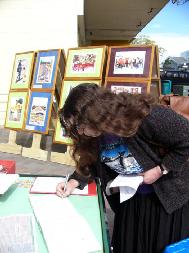 "So brutal! Why should we trade with the Chinese Communist regime!?"
Upon hearing that the communist regime had exhausted huge state revenues to persecute Falun Gong for six years, the woman shown above wrote: "So brutal! Why should we trade with the Chinese Communist regime!?"
On November 18, the photo exhibition was held at Handerson Shopping Center of Auckland.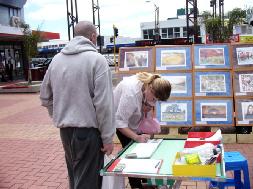 A visitor signs her name on the practitioners' petition
After having heard the true stories behind the photos, the young person shown in the photo above told his girlfriend about the practitioners' suffering, and invited her to sign the petition in support of efforts to rescue Falun Gong children whose parents have been killed by the persecution.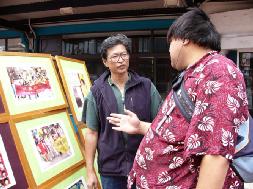 A visitor said, "I support you"
The young man shown above is an ethnic Maori. After learning about Falun Gong, he left his number and asked practitioners to hold the exhibit in his village and teach his people Falun Gong. He showed strong support for Falun Gong and told everyone, "Falun Dafa is good," and said that the ongoing persecution of practitioners in China should end. The young man said, "People who don't believe in God will go to hell. The atheistic Communist Party is doomed to go to hell."