(Clearwisdom.net) On November 8, 2005, United Kingdom Member of Parliament David Howarth put forward an Early Day Motion (EDM 966) entitled, "RELIGIOUS FREEDOM IN CHINA." The motion calls for the release from prison of all Falun Gong practitioners in China and has already received 37 signatures from UK MPs. The motion also calls for Falun Gong practitioners to be given the freedom to practice their belief, and supports an end to the discrimination against Falun Gong practitioners in China. Under the current situation in China, practitioners are often prohibited from being employed as part of former leader of the Chinese Communist Party (CCP), Jiang Zemin's systematic policy to "destroy Falun Gong practitioners physically, bankrupt them financially and ruin their reputations."
(Clearwisdom.net) From October 26 to 31, 2005, the International Society for Human Rights (IGFM) held a photo exhibition exposing human rights abuses in China entitled, "Field of Shame." The exhibition was displayed in Nord-Rhein Westfalen, Dusseldorf and Gelsenkirchen. Photographs and articles about Falun Gong practitioners being persecuted in China were part of this exhibition, which was held on the eve of Chinese Communist Party leader Hu Jintao's visit to Germany.
(Clearwisdom.net) (Summary report by Minghui/Clearwisdom correspondent) Hu Jintao arrived in Madrid on November 13, 2005 to begin a two-day state visit. Falun Gong practitioners called for an end of the persecution of Falun Gong in China.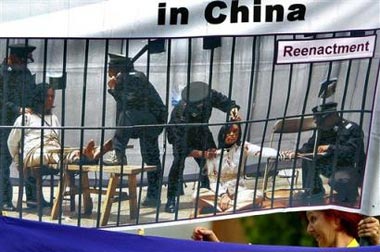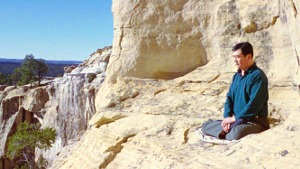 Master Li quietly watching the world from amidst the mountains after leaving New York following July 20th, 1999. (Published January 19, 2000)