Malaysia: Introducing Falun Dafa in the Historic City of Melaka (Photos)
November 16, 2005 | By a practitioner from Malaysia
(Clearwisdom.net) On November 7, 2005, after attending the 2005 Asian and Pacific Falun Dafa Experience Sharing Conference, Falun Gong practitioners from Malaysia, Taiwan and Thailand went to Melaka, a famous tourist attraction in Malaysia, to introduce Falun Dafa and clarify the truth.




Tourists passing by were shocked by photos depicting the brutal persecution of Falun Gong practitioners in China. One after another, tourists stopped to view the posters.
Melaka is known as an historic city. After the Melaka Dynasty, it was ruled by Portugal, Holland and England for about 500 years. Priceless historic heritages were left in each era of Melaka, which allowed later generations to understand the lives of the ancient people. The historic stories very interesting. For example, Zheng He's seven voyages to the Western Seas, the marriage of Princess Han Libao from the Ming Dynasty in Melaka, two Malaysian heroes' fight for their lives, the war between Portugal and Holland, and the Chinese people's immigration history of tears and blood--all these historical records move people's hearts and attract many tourists, and in particular, Chinese people.
| | | |
| --- | --- | --- |
| Practitioners demonstrate the second set of Falun Gong exercises - Falun Standing Stance | Explaining the facts of the persecution to Chinese tourists | Handing out truth-clarifying materials |
More than 100 Falun Gong practitioners took the opportunity to tell tourists about the persecution of Falun Gong that is taking place in China. In particular, practitioners hoped to help tourists from China learn the truth so that they would not be misled by the lies and have a correct understanding about Falun Gong.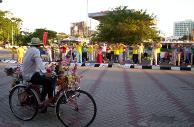 Many people are drawn by the peaceful exercises.
In the beginning of 1999, there were only two or three Falun Gong practitioners in Melaka. Later, many people came to learn and practice Falun Gong. However, after the Chinese communist regime started suppressing Falun Gong on July 20, 1999, people dared not learn and practice Falun Gong because they were afraid of being harassed or persecuted by the Chinese communist regime, and some were misled by the regime's deceptive propaganda. Starting from the beginning of 2000, Falun Gong practitioners from greater Malaysia drove several hours to Melaka during the busy travel season to clarify the truth with local practitioners, so as to end the unprecedented persecution as soon as possible.
On normal holidays, only two or three practitioners clarified the truth in Melaka. This was the first time more than 100 practitioners gathered in Melaka to practice the Falun Gong exercises together. Upon seeing the peaceful practice and listening to practitioners' explanations, local citizens started to have new understandings about Falun Gong.