Germany: Practitioners Continue Activities Calling Hu to End the Persecution (Photos)
(Clearwisdom.net) Since Chinese president Hu Jintao arrived in Berlin, practitioners have been holding a continuous appeal to call on Hu to end the persecution. German President Horst Koehler called on China to respect human rights.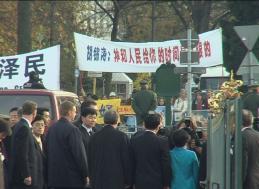 Banners for Hu Jintao: The time that heaven and people give you is limited
At the press conference after the November 10th meeting between Koehler and Hu, Koehler said that no country could discard people's creativity, that freedom and dignity are universal values and that this has been acknowledged by the United Nations. He said that people could freely develop only if the government promotes peace, freedom and democracy. During the summit, Koehler also told Hu that China's economy could continue to grow only if people's freedom improves.
Before Hu's arrival, Koehler met with practitioners and Amnesty international. Both were holding appeals in front of the meeting location. The president shook hands with several members of the groups and asked for their wishes and requests. He promised that he would bring up China's human rights issue during his meeting with Hu.
AFP reported on November 11 that practitioners had begun a 24-hour candlelight vigil after Hu arrived in Berlin on Thursday. The report went on to say that the practitioners planned to hold a continuous appeal until Hu's departure on Sunday.

Practitioners call for an end to the persecution in China
According to a report by Radio Free Asia, when answering a question regarding human rights in China, German government Human Rights leader clearly stated that persecution against religious groups, dissidents and Falun Gong practitioners and control over internet, newspapers and expression had all intensified since Hu started his tenure as Chinese president. The Chinese people still live in a big prison.
Two days before Hu's visit, German TV stations highlighted protests by human rights groups and Falun Gong practitioners around the nation. Meanwhile, the media outlets also mentioned that there was a small "Welcome Hu" group sponsored by the Chinese Embassy.