Washington, DC: Practitioners Call on President Bush to Urge China to End the Persecution (Photos)
(Clearwisdom.net) On the eve of President Bush's visit to Asia, Falun Gong practitioners in the greater Washington, DC area rallied at Farragut Square near the White House at noontime on November 10. They called on Mr. Bush to request that the Chinese leaders end the persecution of Falun Gong, release eight practitioners who have been sentenced to long prison terms and allow persecuted Falun Gong children to come abroad.
| | |
| --- | --- |
| The rally site | Message to President Bush |
Farragut Square is surrounded by many office buildings of major media outlets, federal government branches and national think tanks. As the rally was held at lunchtime, there were a lot of passersby, and many of them stopped to watch the practitioners' anti-torture exhibition and listen to the rally speeches.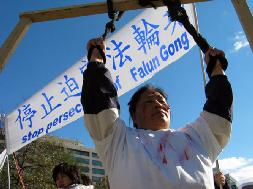 A practitioner re-enacting one of the torture methods used in China against Falun Gong practitioners
| | |
| --- | --- |
| passersby watching the rally | Passersby reading truth-clarifying posters |
Falun Gong practitioner Mr. Wang Zhiwen was unlawfully sentenced to 16 years in prison, one of the eight longest sentences handed down to practitioners. Ms. Wang Xiaodan, the daughter of Mr. Wang, made a special trip from Texas to this rally in order to call for the US government to rescue her father. At the rally, Ms. Wang said, "After the Christmas of 1999, I saw my father for the first time on TV since his arrest. He was sentenced to 16 years in prison. I noticed that his face was swollen due to being punched, and his hair had turned gray. My father appeared to become much older all of sudden. I didn't dare to imagine what kind of torture he was subject to."


Wang Xiaodan voiced her wish for her father's release
Following her father's path, this recent graduate of the University of Texas just became a transportation engineer. She took a day off to join this rally. Xiaodan said:, "In the past several years, news about my father has become less and less. My father is a good father and a kind person. He raised me up by himself and I miss him very much. In the meantime, I am also very worried about his safety."
The Chinese Communist Party's persecution against Falun Gong has lasted more than 6 years. According to Clearwisdom.net, more than 2,780 practitioners have been verified as persecuted to death, while the actual number is far beyond this figure. During this unprecedented persecution, many married couples were persecuted death or one was detained with the spouse murdered by the authorities. Their children thus have been orphaned.
In addition, besides countless practitioners and their relatives being persecuted, those who have supported practitioners have also been suppressed. For example, Attorney Gao Zhisheng's law firm in China was recently closed by the community authorities after he published his open letter urging the government to stop the persecution of Falun Gong. Mr. Gao is rated as No.1 of the ten best lawyers in China.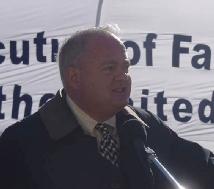 Attorney Martin McMahon gives a speech at the rally
In 2002, more than 50 Falun Gong practitioners filed a lawsuit in the Washington, DC District Court against China's Ministry of State Security, Ministry of Public Security, and China's CCTV, charging the defendants with harassing Falun Gong practitioners in the United States. Martin McMahon, attorney for the practitioners in this case, came to the rally with his colleagues to voice his support for attorney Gao Zhisheng. Mr. Martin stated, "Just as former President Ronald Reagan told Gorbachev to tear down the Berlin Wall, we hope that President Bush can tell Hu Jintao to dismantle the Internet blockage and to give Chinese freedom and other basic rights enshrined in the Chinese Constitution. The United States Commission on International Religious Freedom released its 2005 annual report on May 11. In the report, China is listed as one of the 11 countries designated as severe violators of religious freedom, referred to as "countries of particular concern," or CPC's. This is the 7th time for China to be listed as a CPC since 1999. Dr. Feuerberg, an employee of the US Department of Transportation, read this report and a section of another Department of State report's on the persecution of Falun Gong.
Professor Liu of American University stated, "Among all the human rights breaches of the Chinese Communist Party, the persecution of Falun Gong is the most widespread, brutal, evil and secretive one. However, practitioners' unprecedented peaceful resistance to the persecution has encouraged and inspired many suppressed Chinese to step forward to safeguard their own basic rights. It is proper to state that Falun Gong practitioners are the backbones of all persecuted Chinese. Therefore, support for practitioners is support for all Chinese. We hope that President Bush can realize this fact and ask Hu Jintao to end the persecution during his meeting with Hu. In addition, this request also falls in line with the founding principles of the US and will truly benefit Chinese and Americans."