Malaysia: The People Are Gradually Coming to Understand Falun Gong (Photo)
November 11, 2005 | By a Malaysian Falun Dafa Practitioner
(Clearwisdom.net) For a long time, Malaysian Falun Dafa practitioners have been passing out truth-clarification materials at busy subway stations every work day. Many people stop their hurried footsteps to read the display boards and take a flyer to learn more about Falun Gong and the persecution in China. Some of them walk up to practitioners to ask for more materials.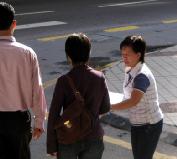 Distributing truth-clarification materials
The truth-clarification materials not only introduce what Falun Gong is and the persecution in China but also talk about a case in which Malaysian Falun Gong practitioners were unfairly treated as a result of the Chinese Communist Party extending its influence to foreign countries.
The practitioners said that they wanted to let more people be aware of the situation, and after the continuous truth-clarifying efforts, many people gradually have come to understand Falun Gong well.