Houston, TX: Practitioners Read Falun Dafa Association Announcement in Front of Chinese Consulate, Call on Chinese Officials to Correct Their Mistakes (Photos)
(Clearwisdom.net, October 27, 2005) (Minghui/Clearwisdom Correspondent Lin Xinyuan reports from Houston) At noon on October 21, 2005, practitioners in Houston gathered in front of the Chinese Consulate and read the Falun Dafa Association Announcement of October 9 in both Chinese and English. They called on Chinese officials involved in persecution of Falun Gong to stop committing new crimes and correct their mistakes.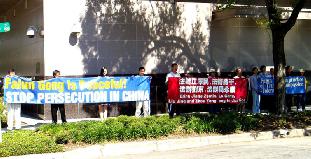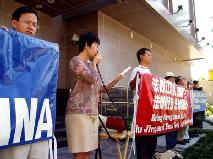 Practitioners in Houston gather in front of Chinese Consulate and read Falun Dafa Association Announcement
The announcement stated, "The persecution of persons based solely on their practice of the principles of 'Truthfulness, Benevolence, and Forbearance' is unconscionable. At the beginning of this persecution, many high-ranking officials in the government and the CCP disagreed with Jiang's policy of persecution, or dealt with the persecution passively. Some even resisted. Many high-ranking officials also practiced Falun Gong. During the past six years, through peaceful resistance and a courageous degree of endurance, Falun Gong practitioners have clarified the truth to the people the world over. People who were previously deceived have awakened or are in the process of learning the facts. As a result, they have refused to join the persecution."
The announcement pointed out, "From today on, overseas Falun Gong practitioners will file civil or criminal lawsuits against all important government or CCP officials who participate in or continue to implement the persecution of Falun Gong and as a result, commit new crimes in addition to those they have already perpetrated against Falun Gong."
Practitioners said that since the publication of the "Nine Commentaries on Communist Party", more and more people have come to know the evil nature of Chinese Communist Party (CCP). So far more than 5 million Chinese people have withdrawn from the CCP and its related organizations. The collapse of the CCP is inevitable. Under this situation, anyone who continues to follow the Jiang faction's persecution policy will be held responsible and brought to justice.
The announcement stated, "The CCP regime is against heaven's will, and is about to collapse. It is now having difficulty sustaining the persecution. Heaven's final judgment of these evil criminals is imminent. However, one of the purposes of the sacred FA of Falun Gong is to save people, including people in all social statuses. Even for those who have committed wrongdoings, there is still an opportunity for them to abandon the evil path and choose to be good. For all those who have committed crimes against Falun Gong but want now to correct their mistakes, they can submit, under safe circumstances, a guarantee statement or regret letter to the Minghui website (Chinese version of Clearwisdom.net) or to any regional Falun Dafa Association to be archived. We will not investigate the various crimes of those who are determined to correct their mistakes. However we will continue to monitor their actions."
Practitioners said that the announcement has been faxed to all Chinese embassies and consulates around the world. Practitioners hope that the CCP officials committing wrongdoings will take advantage of the opportunity to stop participating in the persecution and correct their mistakes.
Falun Gong practitioners have sued the former head of state Jiang Zemin for genocide, torture, and crimes against humanity in more than a dozen countries, including the United States, Canada, Spain, and Australia. High profile attorneys from many countries have also sued other key figures such as Luo Gan, Zhou Yongkang, Liu Jing, Zeng Qinghong, and Li Lanqing. Many former or current governmental or city level officials, police department officials and 610 Office directors have been sued as well.