Tireless Truth-Clarification Efforts in the Bustling Districts of Singapore (Photo)
(Clearwisdom.net) In the bustling districts of Singapore, rain or shine, practitioners have been clarifying the truth to citizens and tourists for 6 consecutive years. A lot of Singaporeans, old and young, have thus directly been exposed to Falun Dafa information.
Many people were surprised by the severity of the persecution. They often asked: "Is the persecution really so severe?" "Are these all real?" "Where can I learn Falun Gong?" "Where can I sign to support you?"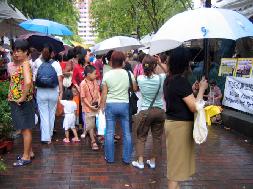 Many Singapore citizens have seen information about Falun Gong
Sometimes when people asked questions, a lot of others stopped to watch. Practitioners always patiently answered the questions one by one with a smile. Occasionally, people who didn't know the facts would call the police. When police officers came, some officers would just take a quick look and leave, while sometimes they would deploy a lot of officers and videotape the site. Regardless how the people and police react, practitioners always remain composed and continue to clarify the truth to resolve the issues fundamentally. They sincerely hope that the police officers and people who have been misled by the Chinese Communist regime can awaken to the truth and truly understand what Falun Gong is.
To stop the persecution, Singapore practitioners will continue to ask the Singapore government and people to pay attention to the ongoing brutal persecution.