Germany: Falun Gong Group Invited to Hold an Anti-Torture Exhibition to Expose the Persecution Taking Place in China (Photos)
(Clearwisdom.net) The 18th stop of the nationwide tour of a human rights photo exhibition entitled, "Shameful Regions" was held in Sendinger Tor Square in downtown Munich on October 12th and 13th, 2005. This exhibition is scheduled to be held in over thirty cities in Germany within three months, aiming to expose the human rights abuses happening in Communist countries including China, Burma, North Korea and Cuba. This activity is jointly organized by the Polish Centre for Democracy in Theory and Practice and the International Society for Human Rights (IGFM). As a direct victim of human rights persecution, the Falun Gong Association was invited to hold anti-torture exhibitions alongside the activity to expose the facts about China's persecution of Falun Gong.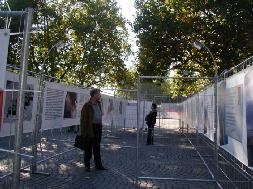 Human rights photo exhibition
Anti-torture exhibition with practitioners reenacting the tortures experienced by practitioners under persecution in China
"More people should withdraw from the Chinese Communist Party"
At a press conference, the representative of the Polish Democracy Centre, Mr. Luba, said that the goal of this photo exhibition is to tell the world's people that there are still so many shameful countries abusing human rights, and China is ranked No. 1 in terms of torture. The bloody persecution against Falun Gong practitioners is accompanied by slave labor. These things are prohibited in the modern world. Mr. Luba pointed out that it is wonderful to see that the Epoch Times' editorial series, the Nine Commentaries on the Communist Party has been so popular around the world since it was first published. He added that five million people withdrawing from the Chinese Communist Party (CCP) is not enough. He said that more people should withdraw from the CCP so that this autocratic Communist regime will collapse as soon as possible.
People came to sign a petition calling for the end of the persecution
Anti-torture Exhibition Shocks People

Many passers-by stopped to look at the photo exhibition, including some nuns. They were all shocked by what they saw. After watching the anti-torture exhibition, many people could hardly believe that such horrendous cruelty could happen in the world today. They asked if Falun Gong practitioners in China are really confined in small cages.
Many German people were shocked to learn that a large number of practitioners are not only confined in small cages, but also jailed in water dungeons and that if they refuse to give up their beliefs in the principles of "Truthfulness, Compassion and Forbearance," they will be subjected to incessant persecution. Ms. Wang Guijin, a nine-months pregnant wife, was forced by eight strong men to abort her baby. In addition, even after images of Ms. Gao Rongrong's horribly disfigured face (as a result of torture) were exposed to the outside world, the Chinese Communist regime still persecuted Ms. Gao to death, heedless of international opinion. In the last month alone, forty-four Falun Gong practitioners were persecuted to death. After people learned of these atrocities, they were really shocked and enraged. They asked how to help the Falun Gong practitioners in China and how to put an end to the tragedy. In the meantime, they left their best wishes in the guest book.
A passer-by writes some words to support Falun Gong: "Against violence, against terrorism. Support freedom of speech."
"Please be sure to let me know when and where Falun Gong activities are held"
A gentleman who works for the Munich public transportation system said that he has attentively read many reports about China's human rights abuses, as well as the informational materials of Falun Gong. If what he read is true, he said, the world is really deplorable. He really cannot figure out the reason why the Chinese Communist regime would be so cruel. At Falun Gong practitioners' suggestion, he has decided to read the Nine Commentaries. He also signed to support the appeal for the rescue of Falun Gong practitioner Jiang Renzheng, who was sentenced to three years in a forced labor camp within a week of being repatriated to China by the German government.
Another gentleman wanted to donate money to Falun Gong practitioners. After he learned that Falun Gong practitioners do not accept donations, he kindly treated the practitioners there with coffee and snacks.
A woman who has just come from China said that she had never heard of this situation. She repeatedly asked about the facts of the persecution and took some truth-clarification material home.
A young man from the IGFM told practitioners that we must let him know when and where Falun Gong activities are held, and he would be more than happy to help out. He always carries copies of the Nine Commentaries on the Communist Party with him so as to give them to those who are interested.
The next exhibition of photos from the "Shameful Regions" will be held in Nurnberg on October the 15th.
From the right: Mr. Luba of the Polish Democracy Centre, Mr. Thierack, Chairman of the Munich Chapter of IGFM, and Mr. Liu from the Taiwan Trade Office.
Source http://clearharmony.net/articles/200510/29432.html