Paris: Renowned Human Rights Lawyer Holds a Press Conference Regarding the Court Investigation of Li Lanqing and Sun Jiazheng's Crimes (Photo)
(Clearwisdom.net) Famous French lawyer William Bourdon held a press conference at 5 p.m. on September 29th. Held at Mr. Bourdon's Paris office, the press conference exposed the Chinese authorities' refusal to cooperate on a Commission Rogatoire Internationale (CRI) issued by Her Honourable Justice Noria Faucherie of the Tribunal de Grande Instance de Paris.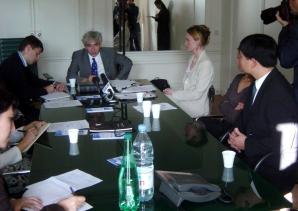 The commission requested the investigation of crimes committed by former Standing Committee member of the Chinese Communist Party's (CCP) Central Political Bureau and former Deputy Premier of the State Council Li Lanqing, the CCP's 610 Office, which specialises in persecuting Falun Gong under Li's direction, and the Chinese police who committed torture or acted as accomplices to torture in this persecution. The commission further demanded an investigation into Chinese police's mistreatment of a French Falun Gong practitioner in November 2001.
The commission also asked for co-operation from the Chinese authorities to investigate Sun Jiazheng, the Chinese Minister of Culture. Utilising media, cultural departments and Internet under his control to deprecate Falun Gong, Sun was accused of being an accomplice to torture for instigating the public's hatred towards Falun Gong.In December 2004, under Falun Gong practitioners' request, renowned human rights lawyers Mr. Bourdon and Belgian human rights lawyer Mr. Georges-Henri Beauthier filed a lawsuit with the French Judicial Department against Li Lanqing who was visiting France at the time. In January 2004, seasoned French lawyer Ms. Phelizon submitted legal actions against Sun Jiazheng, who was attending the "Sino-French Culture Year" events in France at the time. Mr. William Bourdon provided active assistance to this case.
Mr. Bourdon and Mr. Beauthier were the plaintiff's representatives in the international lawsuit against the former Chilean dictator Augusto Pinochet in their respective local countries. Mr. Bourdon was also once the Secretary General to the International Federation for Human Rights (FIDH).
So far Falun Gong practitioners have filed lawsuits in France against five CCP officials (four were high-ranking) for persecuting Falun Gong. The other three are Political Bureau Standing Committee member in charge of propaganda and former CCP Committee Secretary for Guangdong Province Li Changchun, CCP Committee Secretary for Jinlin Province Wang Yunkun and director of Linyuan, Liaoning Province jail administration bureau and head of the "6-10 Office" for that bureau Li Yuanwei. In more than thirty countries, Falun Gong practitioners have filed over fifty lawsuits against hundreds of Chinese officials at various levels who actively participate in persecuting Falun Gong.
For six years the anti-persecution activities of millions of Falun Gong practitioners is the largest, most peaceful and rational event of its kind in history. We firmly believe that in the near future, these activities will lead to public awakening in such a large scale that the persecutors will be cast aside and punished by law.