Promoting Falun Dafa at the New Zealand Health Expo (Photos)
October 19, 2005 | By a Falun Dafa practitioner in New Zealand
(Clearwisdom.net) Falun Dafa received a warm welcome at the annual New Zealand Health Expo. This was the third time that Falun Dafa practitioners participated in the event. The practitioners rented a booth to introduce Falun Dafa to the local residents and to clarify the truth about the persecution of Falun Gong in China.
The Expo lasted for three days. Every day, the Falun Gong practitioners had thirty minutes onstage to demonstrate the exercises and introduce the practice. The peaceful movements attracted many of the Expo visitors. Four little practitioners were the focus of the attention. They were doing the sitting meditation during the thirty-minute-long demonstration. They were focused and solemn. The youngest one was only three years old. One audience member was a doctor of psychology, and he told a practitioner that it was unimaginable that a three-year-old could sit there so quietly for half an hour. He said that he only saw the boy scratch his foot two times and make not a single other movement. He said that this was impossible for a Kiwi of the same age. (New Zealanders affectionately call their babies Kiwis.)
| | |
| --- | --- |
| Introducing Falun Dafa at the New Zealand Health Expo | A three-year-old little practitioner doing the meditation exercise |
A young couple received a flyer and talked to the practitioners. "We received Falun Gong materials in Taiwan. Now we meet Falun Gong again. It's good to see you here."
When visitors heard about the persecution of Falun Gong in China, several women thanked the practitioners for informing them. One gentleman gave Isaac, a practitioner from Wellington, a big hug and said, "Thank you for your introduction." Several people began to learn the exercises at the Expo and wrote down the address of a local practice site.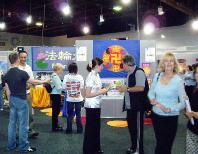 People take initiative to learn more about Falun Gong
Over the years, more and more people have learned about Falun Gong and the persecution in China. Some came directly to the booth and asked, "Why does China want to persecute Falun Gong?" "Is the persecution still going on in China?" and "What can I do to help you?"
Chris, a western practitioner from Wellington, shared his experiences: "Between the demonstrations, please allow me to briefly introduce my experience of practicing Falun Gong. We set a lot of goals in life and work. To reach these goals, we all bear different pressures. So life becomes more and more full of tension. After learning Falun Gong, I understand the principle of following the course of nature. I am no longer attached to those previous goals. I have become open and clear minded. I feel relaxed, and no longer suffer from pressure and annoyances." The audience gave Chris a warm round of applause after his introduction.