(Clearwisdom.net) Falun Dafa practitioner Ms. Cheng Aiyang, 40 years old, is a kindhearted housewife who lives in Shenzhen City, Guangdong Province. She started cultivating Falun Dafa in 1998. She attained a healthy body, and became a good person by following Truthfulness, Benevolence, and Forbearance. After the brutal persecution to Falun Gong started on July 20, 1999, she and her husband endured numerous hardships. They were both sentenced to forced labor just because they kept practicing Falun Gong. The apartment allocated to them by her husband's work unit was taken away, her husband lost his job, and their daughter was forced to become homeless.
(Clearwisdom.net)
Falun Dafa practitioner Ms. Xiao Hongxiu was 65 years old and lived in the Shuizhu Group, Qiqiao Town, Pingjin District, Liangping County, Chongqing City. She firmly cultivated Falun Dafa, and it benefited her whole family. In order for more people to know the truth, she often went out to distribute
truth clarifying
materials, and hang Falun Dafa banners. On July 13, 2002, Ms. Xiao was arrested by police from the Qiqiao Station and the Liangping County Department in the middle of the night. She was detained in the Liangping County Detention Center.
(Clearwisdom.net)
Unable to contact Ms. Cui Luning for many days, her parents went to visit her. But they were greeted with a big mess (see the six pictures below) when they walked into her home. Cui, a Falun Gong practitioner, had been illegally arrested on September 22.
~ Accounts of Persecution ~
~ Improving Oneself ~
~ Standing Up for Falun Dafa ~
~ Journeys of Cultivation ~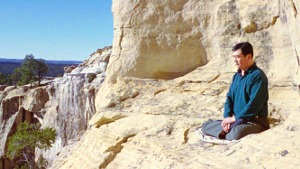 Master Li quietly watching the world from amidst the mountains after leaving New York following July 20th, 1999. (Published January 19, 2000)