Spain: People are Touched by an Anti-Torture Exhibition in Madrid (Photos)
January 14, 2005 | By Spanish practitioners
(Clearwisdom.net) On January 8, 2005, Spanish practitioners held an anti-torture exhibition at Sun Square in the Madrid City Center to show what is happening to Falun Gong practitioners in China.
Anti-torture exhibit touches people's heart
People were astonished that such draconian methods of torture are still being used in the 21st century.
Many people were attracted to the anti-torture exhibit, and their attitudes were changed from doubting and puzzling to being stunned at the brutality of the persecution happening in the 21st century. Many kind-hearted Spanish people wanted to do something to end the persecution.
Many people sign a petition supporting Falun Gong practitioners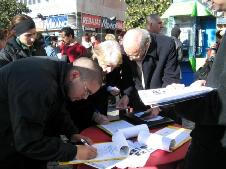 his elderly couple carefully compare their ID numbers and fill in the petition
Many kind-hearted Spanish people lined up to sign a petition calling for Jiang Zemin to be brought to justice. Jiang is China's former leader who personally launched the persecution against Falun Gong practitioners in July 1999 after learning that 100 million people were practicing. It was Jiang who gave shocking orders, such as if practitioners are "beaten to death it is nothing and shall be counted as suicide," and, "cremate their body directly without identifying the person." Jiang is now the subject of over 15 lawsuits around the world charging him with crimes against humanity, genocide and torture.
An older man signed the petition but didn't leave immediately. He helped practitioners pass out flyers and called for people to sign to support Falun Gong. A lady who learned the facts about Falun Gong said that she often traveled around China due to her work. She expressed that she would tell all her colleagues and friends about the truth of Falun Gong. Several young men thought there was a rehearsal, and jokingly said to the practitioner who acted as a policeman, "Don't really beat them up! " When the practitioner told them that they were reenacting the torture methods used in the large-scale persecution against Falun Gong practitioners in China, the young men immediately stood in the line for signature collection. Another man learned the truth and said that he knew about the June 4 movement and the Communist Party's autocratic ruling. When the practitioner told him that the primary culprit is Jiang, the man said, "He won't have a good ending. I hope your lawsuit is successful."
One lady was so deeply touched by the Falun Gong practitioners' unyielding and determined resilience that she helped to hold up a banner.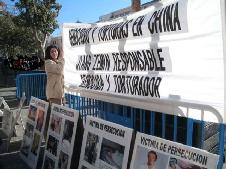 This lady helps hold up the banner to express her support for Falun Gong
A young lady acted as a practitioner who is tortured with "Tiger Bench." Her legs were too stiff to bend after keeping the same position for several hours. Plus it was very cold and she was shivering. While taking off make-up, an older Spanish woman followed her to the back of the stage and held her cold hands to warm them.
The police wish practitioners good luck and success in their lawsuits
As practitioners only got a verbal approval from the city government for holding the anti-torture exhibit at the Sun Square, shortly after the exhibit began, the police came over to check if we were approved. We could not present a written approval, so the police officer called his higher-up. Later the officer told us that his boss said on the phone, "We know Falun Gong. Falun Gong is peaceful, no problem."
A practitioner talked with a local policeman about the human rights violations against people who practice Falun Gong in China. The police officer stated, "In the 21st century this kind of torture is definitely unacceptable. You must carry on and speak out for justice. Good luck to you and good luck to the lawsuit!" The police officers thanked practitioners for telling them the facts about Falun Gong and happily accepted the truth clarification VCDs and flyers.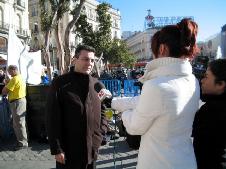 Spanish European News Agency interviews a Falun Gong practitioner
The Spanish European News Agency interviewed Falun Gong practitioners during the day.