Stories from Turkey (Photos)
(Clearwisdom.net)
A Turkish Seamstress: "Falun Dafa Is Great and Brings True Physical and Spiritual Health as Well as Good Fortune"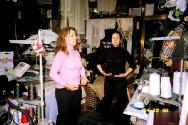 Turkish Tailor: "I would like to introduce Falun Dafa to everyone so that they can be as fortunate as me!"
A seamstress in Ankara, Turkey became a Falun Gong practitioner only two months ago and feels that the exercises are very good. On the first day of her practice, she said: "Falun Gong is just what I've been waiting for." After three days of practicing, her back and neck pain were greatly reduced. She has thus taken the initiative to spread Fa, and she has introduced the practice to her friends. She said that Falun Gong brings people not only physical and spiritual health but also good fortune: This woman has run her own business as a seamstress for 16 years, and every winter she had little business and had a hard time paying the rent. After she started to practice Falun Gong this winter, business suddenly surged. She is sure that Falun Gong brought her the good fortune. In the past month, she not only paid off the rent but also earned extra money to pay for her daughter's winter classes. She said: "I am so fortunate this winter, healthy and relaxed!"
Inspired by this woman, two of her friends also learned the exercises and read the Falun Gong books. They also proposed to help us to proofread the draft of the Turkish-language version of Zhuan Falun. At present, the seamstress is running an exercise practice site, and 8 or 9 people regularly go there to practice and study together. She said, "I would like to introduce Falun Dafa to everyone so that they can be as fortunate as I am!"
Below are some stories that Turkish practitioners experienced during Fa-promotion and truth clarification activities, introducing Dafa to the Turkish people.
| | |
| --- | --- |
| Meditating in a Falun Dafa Festival on December 26, 2004 | During the Falun Dafa festival, A girl took pictures with her cellular phone to send to her mom |
| | |
| --- | --- |
| Exercise demonstration | The girl sitting in the middle started practicing Falun Gong one month ago and can meditate in the double-leg-crossing position for half an hour |
"Devils Won't Last Long, They Will Be Punished! I will Come to Learn Falun Gong"
I registered for a painting class at a school where I made many friends. I told my classmates, the teacher, as well as the school manager about Falun Gong and the truth of the ongoing persecution by Jiang Zemin's regime and the Chinese Communist Party. All of them said, "The days of these devils will not last long. What is awaiting them must be punishment." They also made an appointment with me to learn the five sets of exercises.
One day, I was taking the bus to school and a woman sitting behind me gave me a big smile. She asked me, "Are you studying in this school?" I answered, "My school days have over. My daughter is in high school and I have retired!" She was confused, and thought I didn't understand what she said. She asked again, "Say what? You have retired? You must be mistaken!" I said, "I am not young any more. I think you are younger than me, aren't you?" She said, "I'm 35. And you?" I told her, "I'm 42."

She found it hard to believe and gazed at me... I took out a collection of Falun Dafa photos and showed them to her. I told her, "I look so young because I am practicing such wonderful exercises." I told her about the benefits I've received from practicing Falun Dafa. I also showed her some pictures of the torture methods used to force Falun Gong practitioners in China to renounce their beliefs and told her more about the persecution of Falun Gong. At that time many people crowded around to listen and see the pictures. Someone angrily said, "Jiang Zemin will be punished. He will face retribution for how he has persecuted good people."
After talking about the persecution, this woman still gazed at my face and said, "You don't look like a 42-year-old lady. I also want to practise Falun Gong." I gave her a flier with contact information on it. Then she told me her name and said she will come to learn the five sets of exercises.
Exhibition Manager: "You Don't Have to Pay the Booth Fee" Because Promoting Falun Gong Is a Good Thing
In Ankara, a large-scale exhibition took place from December the 15th to the 30th. Practitioners went there to raise awareness of the persecution by talking to people and distributing leaflets. We got approval from the manager in advance, who said, "You don't need to pay for the booth fee. Just distribute leaflets as you like. You don't charge people money, and this is a good thing which benefits people's health." There were many people there and the place was crowded. Many people who didn't get our fliers squeezed back in to get them.
A Couple Who Just Started to Practice: "The Jiang Regime Is So Evil and Jiang Will Be Punished Soon!"
A couple learned about Falun Dafa from our Falun Dafa Festival one month ago. They downloaded the audio & video material by themselves and learned the five sets of exercises. Several days ago, a veteran practitioner walked through the exercises with them together. Now they are reading Zhuan Falun and other Falun Gong books. When they learned about the truth of the persecution, they said: "We can't understand what the Jiang regime is doing. Jiang is so wicked that he will suffer retribution and punishment for his crimes."