Exhibition of Tortures that Practitioners Suffered in China (5): "Riding the Airplane" and Squeezing Toothbrush between Fingers (Photos)
September 29, 2004 | By a Practitioner in Daqing City, Heilongjiang Province
(Clearwisdom.net)
Holding a cup of water on the head
A woman practitioner suffered the following torture in Harbin Drug Rehabilitation Center. Jail guards handcuffed her to a ring on the ground, forced her to squat for a long time and put a cup of water on a small stool over her head to deprive her of sleep.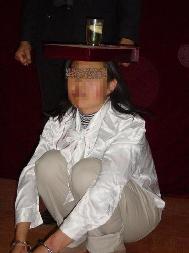 "Riding the airplane"
Body is bent 90 degree and both hands are stretched. Sometimes a cup of water is put on both hands. If the water is spilled, prison guards will beat the practitioner brutally.
Prison guards strip a practitioner down to his underwear and beat his hip with a shoe heel until bruised and swollen. It is extremely painful to sit down.
Squatting with eyes open
Prison guards handcuff a practitioner to the leg of a bed and force him to squat with eyes open. They will beat him if he dozes off.
Reining with a stick in the mouth and agitating the mouth with a stick
Prison guards force a practitioner to sit on a metal chair and handcuff his hands and feet. They put a wooden stick wrapped with a towel to his mouth and tighten it to his neck with ropes. Prison guards sometimes insert the end of a stick into a practitioner's mouth and agitate it forcefully to cause pain and injury. Then they apply concentrated salt solution to his mouth to torture him. It is extremely painful.
Squeezing Toothbrush between Fingers
Prison guards hold a practitioner's fingers and forcefully turn a toothbrush between his fingers.
Beating brutally in various ways
Prison guards in Sartu Jail, Daqing, Heilongjiang Province tortured practitioners in this way. They force a practitioner to stand about 4 inches away from a wall and pound his jaw. As a result, his head hit the wall. A practitioner was beaten to the teeth becoming loosened and the head swollen. Now he has three teeth replaced.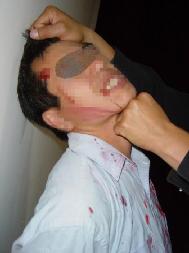 Pounding jaw
Prison guards handcuffed a practitioner to a metal chair and hack his neck with their palm.
Hacking neck
Prison guards tie a practitioner with ropes and bend his body to have his head stay between the legs of a guard. Then the guards beat him brutally.
Force-feeding brutally
Prison guards tie a practitioner to a "dead person's bed" and hold his head. Others insert big rubber tubes into his mouth brutally and force-feed him with a highly concentrated salt solution. Some intentionally move the tube back and forth in his stomach, making the practitioner nauseous, vomit, choke and yell in agony. When the tubing is withdrawn from his body, bloody liquid, food and viscous stuff from stomach come with it.