Graphic Sketches: Torture Methods Used Against Falun Gong Practitioners in Dalian Forced Labor Camp
(Clearwisdom.net)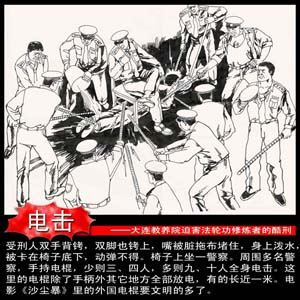 Electric shock
: A practitioner's hands are cuffed behind his back, his feet are shackled, and his mouth is stuffed with a dirty mop. Water is splashed onto his body and he is then subdued under a chair so that he is unable to move. A police guard sits on the chair. Several police guards stand around, holding electric batons in their hands. Sometimes three or four guards, or even nine to ten guards, simultaneously hit the practitioner. Except for the handle, their electric batons discharge everywhere. Some were long as nearly a meter. The electric batons shown in the movie "Sandstorm" were much more civilized.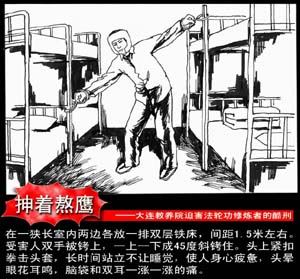 Aoying (Forced to stand and stay up days and nights):
Two bunk beds are placed on both sides of a narrow room, at a distance of 1.5 meters (5 ft.) apart. The victim practitioner's hands are cuffed to the frames of the two beds, with one on the upper frame of one bed and another hand cuffed on the lower frame of the other bed. A boxing head cover is tightly attached to his head. He is forced to stand for a long period of time without any sleep. This makes the victim feel both physically and mentally very tired. He usually feels dizzy in the head, his eyes blur, and his ears ring, and there is much pain in the head and ears.

Three boards:
The victim's limbs are cuffed to the four corners of the bed. Only three narrow wood slats are placed on the bed frame, and a boxing head cover is tightly attached to the victim's head. A long period of this torture makes the victim experience extreme pain all over his body. His head usually feels dizzy and his eyes blur.