The Chinese Embassy in Vienna Illegally Refuses Falun Gong Practitioner Wang Yong a Passport Extension (Photo)
August 10, 2004 | News release by the Austrian Falun Dafa Information Centre on July the 30th 2004
(Clearwisdom.net) A passport extension application made by Mr Wang Yong, who holds a Masters Degree in Economic Information Engineering, was refused by the Chinese Consulate in Vienna on July the 21st 2004. Mr Wang Yong, 32, has lived in Austria since 1993. The reason the Chinese Consulate refused the passport extension is because Yong practises Falun Dafa and regularly participates in peaceful appeals at the Chinese Consulate in Vienna, calling for an end to the persecution of Falun Gong in China. Yong asked the Chinese Consulate to give him a written explanation for the refusal, but his request was rejected. If Yong returns to China, it is very likely that he will face brainwashing and persecution in a forced labour camp.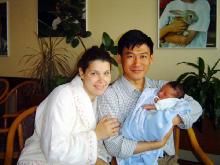 Wang Yong with his wife and son
The 'Black Hand' that persecutes Falun Gong has been extended to Austria
It is the first time that a passport extension application by a Chinese Falun Gong practitioner living in Austria has been refused just because he practises Falun Dafa. Yong's Austrian wife and their two-month-old son could also sense that the Jiang group's persecution of Falun Gong has extended to overseas.
"It is a fact that Mr Wang Yong practises Falun Gong, but he should have freedom of belief and freedom of speech. And it should never be a reason for depriving him of his freedom to travel." - excerpt from a letter to the Chinese Embassy in Vienna on July the 28th, 2004 by human rights organisation, 'Society for Threatened People'.
Yong said, "What is ironic is that in the talk with the Chinese Embassy personnel, they denied the cruel persecution of Falun Gong practitioners in China. But they didn't realise that what they are doing at the time, as they refused to extend my passport, is already beyond their normal working procedures and this incident itself is a form of persecution."
The refusal of passport extensions has become a common persecution approach
In countries other than China, refusal of a passport extension has been widely employed to persecute overseas Falun Gong practitioners, making it more difficult for them to live overseas and force them to return to China. This kind of incident even happens in Austria at present. The refusal of Yong's passport extension means he'll become a person without nationality. As a Chinese citizen without identification documents evidencing nationality, he'll be unable to travel freely as other Chinese citizens can.
A few years ago, a new-born baby in the UK was unable to get a Chinese passport because her parents practised Falun Gong. Meanwhile, because of her parents' Chinese nationality, the baby could not get a UK passport either. As a result, this baby became a person without nationality from the moment she was born.
Some Austrian citizens have also experienced the persecution of Falun Gong first hand. For instance, two years ago, two Austrian citizens living in Salzburg were denied their application for a tourist visa to China, because the Chinese Embassy was informed that they practised Falun Gong. The staff at the travel agency that dealt with their visa and tickets were very confused, because they had never heard of a refusal of Austrian citizens' visa application by the Chinese Embassy before.
About Mr Wang Yong
Wang Yong, 32, is a Chinese national who earned his Masters Degree in Economic Information Engineering from a university in Vienna. He is currently living in Vienna with his wife, an Austrian national, and their two-month-old son and has permanent residence status.
Since his Chinese passport is due to expire on September the 10th 2004, Yong submitted his passport extension application to the Chinese Consulate in Vienna on June the 30th 2004. On July the 7th, when he went to the Chinese Consulate to collect his passport, he was told that the Consulate had to wait for the decision from the authorities in China. After making several enquiries thereafter, Yong was finally informed on July the 21st that his passport could not be extended because he practises Falun Gong and actively participated in peaceful appeals to call for an end to the persecution of Falun Gong.
About Falun Gong
Falun Gong, also known as Falun Dafa, it is a traditional Chinese self-cultivation practice originating in China, and has been practised in over sixty countries throughout the world. In addition to its five sets of exercises, Falun Gong requires its practitioners to live by the principles of "Truthfulness, Compassion, and Forbearance."
Since July the 20th 1999, Falun Gong has undergone irrational persecution initiated by China's former leader Jiang Zemin. Since the persecution began, millions of Falun Gong practitioners have been illegally arrested, and more than ten thousand others (the actual figure may be much higher) have been sent to forced labour camps without any form of legal proceedings. This persecution has affected people from all walks of life: Some are deprived of their jobs and housing, students are expelled from schools, the pregnant are forced to have abortions and couples are forced to divorce. According to the figure confirmed by the Falun Dafa Information Centre, well over 1,000 have been tortured to death in jails or forced labour camps. Moreover, the actual death count is far more than this figure.
For more information, please contact the Austrian Falun Dafa Information Centre.