Indonesia: Tens of Thousands of People View Parade and Anti-Torture Exhibit That Expose Jiang's Group's Five-Year Persecution (Photos)
July 21, 2004 | By Dafa practitioners in Indonesia
(Clearwisdom.net) July 20, 2004 marks five years of persecution of Falun Gong in Mainland China. To commemorate this solemn occasion, Indonesia Falun Dafa Association held a parade to peacefully appeal and an anti-torture exhibit to expose Jiang's group's brutal persecution of Falun Gong practitioners in China. The parade set off from the Chinese Embassy in Indonesia and concluded outside the Indonesia Hotel opposite a fountain in downtown Jakarta. The route was five kilometers.
| | | | | | | |
| --- | --- | --- | --- | --- | --- | --- |
| | Colorful Banners hung on the float, Dafa practitioners are demonstrating sitting meditation | | Falun Dafa's exercise demonstration | | Anti-torture exhibit and float cause citizens' strong response, they watch the parade while holding Dafa truth clarification materials | |
| | | | |
| --- | --- | --- | --- |
| | Police cars lead and protect the parade that traverses five kilometers | | Anti-torture exhibit |
Nearly 200 practitioners from Jakarta, Surabaya, Bali Island, Batam Island and Tanjung Pinang organized the parade. Several human rights organizations voluntarily participated in the parade. They were Jakarta Law Support Organization, KRHN (National Law Reform Organization), KONTRAS and AFAD (Asian Branch for Missing People Organization), IKOHI (Indonesia Missing People's Relatives Organization) and PBHI (Indonesia Law and Human Rights Support Association). Jakarta police sent two cars to lead and protect the parade, helping maintain traffic so that the parade went smoothly.
Tens of thousands of residents along the way viewed the parade enthusiastically. When they learned that the torture methods demonstrated are currently being used in China, and that Falun Gong practitioners in China are suffering such brutal persecution and even lost their lives, they could not understand Jiang's group's act.
Regarding this large-scale parade, the police claimed that every one has a freedom to express their position in striving for human rights. Indonesia Falun Gong practitioners simply expressed their position in supporting Falun Gong practitioners in China who have been tortured to death for practicing Falun Gong, so can be regarded as reasonable act of human rights, and therefore they were obliged to help maintain traffic and protect them until the end of the parade.
TV stations such as SCTV, LATIVI, TV7, ANTV, Meidu and NTDTV all sent reporters to conduct interviews, nearly 20 reporters from Kompas, an Indonesian daily newspaper with the largest circulation in Jakarta, Indopos, Reuters, Antara (Indonesia's official news agency), Xinhua News Agency came to conduct interviews and report. Some reporters even jumped on to the float to shoot photos of torture exhibit in close proximity.
---------------------------------------------------------------------------------------------------
High-ranking officials and the entourage from the Chinese Embassy in Indonesia were also among the procession and videotaped the whole process. A high-ranking official commanded and gave orders. Later on, we learned that that official is the Minister Yu Hongyao at the Chinese Embassy.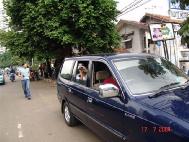 Caption: the Chinese Embassy's car with the license plate being CD25-29 follows the parade and videotapes the whole process