School Teacher Li Guangzhen of Jianping County, Liaoning Province Is Tortured to Death and Her Husband is on the Verge of Death
July 17, 2004 | By a practitioner in Jianping County, Liaoning Province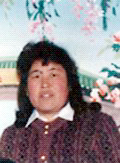 Li Guangzhen
(Clearwisdom.net) Ms. Li Guangzhen, 52 years old, was an outstanding teacher of Machang Town Center Primary School, Jianping County, Liaoning Province. Her husband Zhou Xirong is an English teacher in Machang Town Middle School. Because they are firm in practicing Falun Dafa, their house was searched many times by the police. They were detained, severely beaten, and the police extorted money from them. In October of 2002, the police arrested and detained them forcefully. In March of 2003, they were illegally sentenced to three-year prison terms.
Li Guangzhen was taken to Dabei Prison in Shenyang. She was severely tortured and thus unable to eat any longer. She quickly became emaciated. In October of 2003, she was bailed out for medical treatment and died on June 18, 2004. Her husband Zhou Xirong is now detained and tortured at Dongling Prison of Shenyang. His life is in danger, as well.
On October 22, 2002, police arrested Zhou Xirong in his hometown, Shaoguoyingzi. The same day, he was taken to the county police station. Later he was detained at No. 2 Custody Center and then moved to No. 1 Custody Center. After they secretly sentenced him to prison, they sent him to Jinzhou Prison. Later on he was transferred to Dongling Prison in Shenyang, where he was taken to a brainwashing class. Due to the persecution, Zhou Xirong has almost lost his eyesight and hearing completely. He no longer can walk and his situation is dire.
The following is Li Guangzhen's account of her and her husband's experience in practicing Falun Dafa and their being persecuted for their belief.
Experiencing the Healing Power of Falun Dafa
I am a teacher. During the 30 years of hard work, I suffered from many diseases, such as tuberculous pleuritis [a myobacterial infection], peritonitis, uterus myoma, coronary heart disease, peptic ulcer, and hypertension. I had two surgeries due to an ectopic pregnancy. I suffered intestinal adhesion and systemic edema after the surgery. I also endured systemic tuberculosis and a pulled ligament in my right leg. Besides that, I was allergic to almost every drug and experienced allergic reactions after injections.
I spent a lot of money, yet my diseases were not cured. In 1994, when struggling between life and death, I started to practice Falun Dafa. After attending the Falun Dafa lectures, all my diseases disappeared. I personally experienced the state of living disease free after so many years of suffering. I owe it at all to the great power of Falun Dafa.
The Persecution Before 1999
Because I practiced Falun Gong, I was transferred from my original teaching position at the headquarter school, by the township government, to a primary school 3 miles away from house.
In September of 1996, Liu Moxuan of the county public security squad and Li Guang, head of the Machang Town police station, along with over ten people, ransacked my home. Without showing any searching warrant, they took the portrait of Mr. Li Hongzhi, founder of Falun Gong, and my meditation mat. They also took 980 yuan in cash. In addition, they fined me 2,200 yuan. (Translator's note: yuan is Chinese currency. The average monthly income of an urban worker is 500 yuan.)
In 1997, the township government fired my husband from his middle school teaching position because he practiced Falun Gong. They only gave him six-month compensation of 200 yuan monthly. My son and daughter-in-law were also affected.
In October of 1998, I was fired and to receive 200 yuan monthly for six months.
In October of 1998, 42 practitioners traveled to Beijing to appeal. After they returned, my husband and I were rehired, but we didn't receive any back pay for the time we were not allowed to work.
Persecution After July 20,1999
On July 30, 1999, because we practiced Falun Gong, the police searched our house and took the video-cassette recorder, the audio tape recorder, the mirror rack, and my daughter's music cassettes she needed for her school exams. They detained my husband and me. At that time, I just had a work related accident. Four of my toes were cut off and had become infected. This did not make any difference to the police. They put me in detention. Half a month later, I wrote the so-called "promise" and turned in 2,500 yuan as a guarantee for not practicing Falun Gong. (I have the receipt, still.)
In 2000, the police went to harass us at home many times. They took my daughter's music cassettes and did not return them. I went to my son's place. The police called him and tried to have me come back. One day, on my way to visit my son, the police arrested me. They took me to the police station, searched my bag, and interrogated me. They set me free, as they found nothing suspicious. They ordered me to call daily to report my whereabouts. My freedom was taken from me.
In April of 2001, on the way to my hometown, I picked up a Falun Gong flyer from the ground. I left it at my sister-in-law's house. Later on, the police searched her home and extorted 1,000 yuan from her. They extorted 2,000 yuan from me.
In October of 2001, Zhou Xirong was teaching her class when the police came and asked him to come to the police station. They asked him to verify some materials. Instead, they detained him for 40 days and forced him to pay 8,000 yuan.
In April of 2002, the police station employees asked that my 4-year-old granddaughter and I come to the police station. They forced me to write a promise not to practice Falun Gong. They also threatened to take away my son's job and send me to the brainwashing center in the county. I was forced to leave home and go from place to place.
In October 2002, police arrested me at a practitioner's home. They took away everything I had in my bag. I had with me over 2,000 yuan in cash, a newly purchased cell phone, pager, and toothbrush. They even searched my body. They took me forcefully to their car and to the police station, where they searched my body again. This time they took 1,000 yuan from me. They didn't give me any receipt, but detained me for 50 days. Because I gave out 100 books of Falun Gong while I was going from place to place, they sentenced me to three years imprisonment.
On December 10, 2002, the police department issued an arrest order, but I didn't sign it. The next day I was sent to No. 2 Custody Center, where I was supposed to be detained for 50 days. On the third day, a deputy chief whose last name is Yang asked us to sign a paper for a detention of 15 days. I didn't sign that, either.
A Trial Without Defense
On March 28, 2003, during a court trial, I was not allowed to speak or defend myself. The police had no cause against me to judge me in court. I called out "Falun Dafa is great." A policeman then punched me in the head, my ear started to swell up. At that time my blood pressure was very high, around 190. The police pushed me back forcefully and I almost fell. No court decision was rendered.
After the prison term was announced, we were not allowed to see our families. We were immediately taken away. They demanded money from our families. They didn't allow us to take any bags, but asked our family to purchase all necessities for us. The police secretly sent me to Dabei Prison in Shenyang.
I Almost Died Because of the Torture in Dabei Prison
The first day at Dabei Prison, the police confiscated my Falun Gong book and had two inmates watch me. At night, when I got up to practice the Falun Gong exercises, over ten people attacked me. They covered my head with a blanket and beat me until I lost consciousness. Later as I was waking up, I heard an inmate say, "It doesn't matter if she dies. There is no one in her family. Her spouse is also in prison. If she doesn't die, we will put her in the small cell. " When I was fully awake, I recited Dafa articles in my mind. Later I was carried to the bed. At five o'clock in the morning, I was forced to work as if nothing happened. After the police came on duty, they made me to go to the second floor. Over ten of them punched and kicked me. They cuffed my hands with an iron chain and tied me up to the window. They sealed my mouth and eyes with tape, and struck me again. They forced me to write a guarantee to quit practicing Falun Gong. Otherwise, they said they would torture me everyday.
Under the severe torture, I began to suffer again from my old illnesses, but the prison wouldn't allow me to have medical treatment. In the end, the police took me to the prison hospital. They still arranged people to watch me. They wanted to assure that I would not do any of the Falun Gong exercises. The doctor said I needed an operation immediately, but the police detained me for another 26 days, during which time I neither ate, drank, or slept for 11 days and nights. The police was afraid that I might die there, so they agreed for me to be released on bail for medical treatment on October 5, 2003.
* * * * * * *
Li Guangzhen died on June 18, 2004. Her husband Zhou Xirong is being tortured in Dabei Prison and is on the verge of death. They leave behind a daughter at home who is being supported by relatives.
Related phone numbers:
Dongling Prison in Shenyang, zip code: 110015
Reception:86-024-24711741 Ext.8064
Policeman Zhou Xizhong (Zhou Xirong's cousin):
13909810318 (cell phone), (024) 24312442 (H)
Perpetrators: Li Ronghua, Liu Weiyan
Police Department of Jianping County, Liaoning Province:
Head of the department: 86-421-7814424
Township Squad: 86-421-7813314
Office: 86-421-7813186
Transportation Office: 86-421-7814586
Management Office: 86-421-7813412
Duty Office: 86-421-7812240
Public Security Squad: 86-421-7812719
Household Registration Office: 86-421-7815545
Chief Officer's Office: 86-421-7827060
Chief Officer of Police Squad: 86-421-7823158
Internal Security Squad: 86-421-7813081
Instructor's Office: 86-421-7827191
Office: 86-421-7816516
Deputy Chief: Pan Zhanxian 86-421-7814865 (H); 86-421-7812024 (O)
Politics and Security Office: 86-421-7813081
Heads, Jiang Jie: 86-421-7814048, Liu Yingxuan: 86-421-7815820,
86-13942112945 (cell phone)
Jianping County Court Office Numbers:
Head of the Court: 86-421-7822188
Case Registration: 86-421-7815468
Politics Office: 86-421-7821230
Research Office: 86-421-7817774
Discipline Supervision Office: 86-421-7816936
Police Squad: 86-421-7817610
Supervision Office: 86-421-7821197
Duty Office: 86-421-7813432
Office: 86-421-7812823
Ye Baishou Court: 86-421-7820404
Jianping County People's Procuratorate Chief Procurator's Office: 86-421-7814802
Public Prosecution Office: 86-421-7813094, 86-421-7812073
Investigation Office: 86-421-7814414, 86-421-7811043
Prison Supervision Office: 86-421-7815057, 86-421-7811045
Appeals Office: 86-421-7812000, 86-421-7811931
Investigation Office: 86-421-7819674
Machang Town Police Station: 86-421-7671007