San Diego, California: TV News Anchor Visits Falun Gong Booth at Community Health Expo (Photo)
June 29, 2004 | By A Falun Gong Practitioner in San Diego
(Clearwisdom.net) On May 22, 2004, Falun Gong practitioners in San Diego participated in a community health expo held in Mira Mesa, California. San Diego's KGTV (Channel 10) news anchor Ms. Kim Lee Ann came to the Falun Gong booth, talked with practitioners, and had a group photo taken.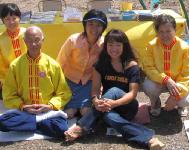 KGTV (Channel 10) news anchor Ms. Kim Lee Ann (front row) in a group photo taken with Falun Gong practitioners
Ms. Ann said that she had covered Falun Gong events before and knew about the persecution of Falun Gong practitioners in China. She asked about the recent plight of Falun Gong in China and accepted truth-clarification literature. Before she left, she gave practitioners her contact information and encouraged them to contact her in the future.
In addition, the organizer of the event invited Falun Gong practitioners to give an exercise demonstration on stage, which many audience members watched. In the booth next to Falun Gong practitioners was the director of a senior citizen activity center. The practitioners presented Dafa books to her, and she said that she would invite the practitioners to introduce Falun Gong at the center.