Falun Gong Practitioners Attend Delaware's Chinese Festival (Photo)
June 22, 2004 | By practitioners from Delaware
(Clearwisdom.net) From June 18 to 20, Delaware Chinese-U.S. Friendship Association held its annual Chinese Festival, which attracted numerous Chinese and American people who love the Chinese culture.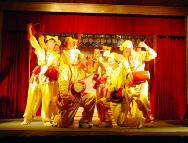 Falun Gong practitioners performed the waist drum performance "Jubilation" which added a cheerful atmosphere to this Chinese festival and won warm applauses. There were no empty seats in the performance. When learning that Falun Gong practitioners gave the performance, many Chinese people felt surprised, "Oh, it's performed by Falun Gong practitioners!" "Falun Gong practitioners' outlook is really good!"
Practitioners warm-heartedly participated in local Chinese community's activities which enhances the harmoniousness of the community. This also allows many people to further understand the truth about Falun Gong.