The Chinese Consulate in Houston Unreasonably Rejected My Passport Extension Application (Photo)
June 17, 2004 | By Fushuang Cui, a Dafa Practitioner in Virginia
(Clearwisdom.net) My name is Fushang Cui. I learned Falun Dafa in late 1998 when I was studying in Florida, and I currently live in Virginia after obtaining my PhD from the University of South Florida last August. My passport renewal was unreasonably cancelled by the Chinese Consulate in Houston because I practice Falun Dafa.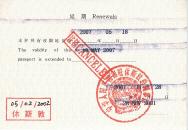 Cui's passport renewal was first granted and later cancelled by the Chinese Consulate in Houston
On November 27, 2001, I put all the required documents into one envelope and mailed it to the Chinese Consulate in Houston by overnight express. According to a stamp mark on my passport [shown in the photo], the Consulate received my passport on November 28 and then granted my passport extension immediately. However, at noon on November 29, I received a phone call from a consulate official whose last name was allegedly Yang. Mr. Yang wanted to check my status with Falun Gong. He repeated the Jiang regime's persecutory policy and requested that I quit my Falun Gong practice. I rejected his request, told him my positive experiences with Falun Gong and pointed out to him that the persecution only reflected Jiang Zemin's (who was president of China at that time) campaign of persecution. The conversation continued for about 40 minutes. At last, he said that he knew my situation now. After that talk, I never received any further information regarding my passport, so I decided to call the Consulate to get an update on the situation.
I actually called the Consulate twice and the answer each time was the same: The consul in charge of passport extension wasn't available and my passport would be processed as soon as the officer came back. After more than two months, in response to my repeated requests, the Consulate mailed me back a cancelled passport [see photo above]. Evidently, the Houston Consulate was purposefully withholding my passport, as passport renewal by mail typically does not take more than 2 weeks. As a matter of fact, my passport was originally extended for another 5 years upon its arrival at the Consulate. What likely happened was that the Consulate looked up my name from its Falun Gong blacklist on November 29 and thus withheld my passport while having a consul call me to pressure me into renouncing Falun Gong. After they realized they couldn't achieve that goal, they cancelled my passport extension. As a matter of fact, Chinese public security officials had threatened my father even before I submitted my application for a passport renewal telling him, "If I continue to participate in Falun Gong activities in the U.S., I will have problems when I applied for my passport renewal." Below is what had actually happened:
During the China-U.S. human rights dialogue in October, 2001, I participated in a peaceful appeal in Washington D.C, calling on China to end the persecution of Falun Gong. When I came back to my home in Florida, as usual, I called my parents. To my great surprise, my parents, especially my farther, was very upset and in a panic. I became worried, particularly because my father has a very serious heart disease. My father told me that a police officer told him that I went to Washington DC to appeal. The police also said that police had all the records of my phone calls to China and knew all the details of my activities in U.S. The police officer requested my parents to persuade me not to appeal for Falun Gong any more; otherwise my family would face severe consequences. The police officer mentioned to my father that my passport would soon expire. Later, my brother and sister both mentioned my passport when I called them. In China, especially for elders like my parents who live in the countryside, people don't know the details of passports, and many never see a passport in their entire lifetime. The only plausible explanation was that police threatened my family that the Chinese authorities would not renew my passport.
In Florida practice sites and many large-scale activity occasions, I have met many people who claimed to be Falun Gong practitioners. These people often did not concentrate on practicing Falun Gong exercises or study; however, they seemed more engaged in collecting personal information from practitioners. Maybe this was how I got onto their blacklist. As a matter of fact, agents of the Jiang regime have undertaken many more illegal activities on U.S. soil to harass Falun Gong practitioners and stifle voices supportive of Falun Gong. They have been spreading the Jiang regime's propaganda to instigate people's hatred toward Falun Gong, taping practitioners' phone calls, canceling practitioners' passports, pressuring U.S. governmental officials to withdraw support for Falun Gong, etc.
The unreasonable cancellation of my passport by the Houston Consulate has brought me a lot of trouble. The payroll office at the University of South Florida, where I was studying for my Ph.D, requested many times that I provide a valid passport; otherwise, the University would have to suspend my assistantship. As a result, I had to explain the situation to people in my department, to the international students and scholars office, and to my lawyer on numerous occasions. The only reason for the cancellation of my passport extension was that I practiced Falun Gong and follow the principles of Truthfulness, Compassion, Forbearance.