Taiwan: Yunlin County Elementary School Introduces Falun Gong to Pupils and Teachers (Photos)
(Clearwisdom.net) On June 5, 2004, approximately 150 Tuku Elementary School pupils, from grades 1 to grade 6, participated in a "Falun Dafa Camp" in the school's gym. During the one-day event, pupils learned how to maintain their physical and mental health by practicing Falun Gong. Besides teaching Falun Gong, the sponsors of the event also prepared various programs such as dancing performances, movie shows and teaching skills to enrich the children.
Ms. Lin, who organized this event, said that the teachers of Tuku elementary school had attended two Falun Gong free teaching sessions before this event. The teaching sessions were welcomed by the schoolteachers, who then said that such a good practice should be introduced to the pupils. With the approval from the principal and the coordination of schoolteachers, the first Falun Dafa Camp was successfully held. It was initially estimated that approximately 40 pupils would attend, but approximately 150 students actually registered for the Camp.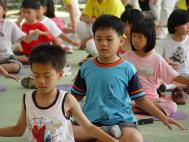 Practitioners and schoolteachers also encouraged parents to join the Camp with their children. One parent who accompanied her child throughout the event said she was very happy to see children develop an interest in cultivation. She said that cultivation is a very beneficial activity and isn't limited by age. Another parent, Dr. Ye, said that all the programs of the Camp were very positive and helped children understand the importance of cultivating one's xinxing (mind nature or heart nature, moral character).
A student advisor of Huwei High School said that he had benefited a lot from practicing Falun Gong, and thus volunteered his time to help with this event. "Falun Gong teaches 'Truthfulness, Compassion and Forbearance' and can really help people to upgrade their xinxing. If we can sow the seeds of 'Truthfulness, Compassion, and Forbearance' in children's hearts, we will make a very positive impact on their future," the schoolteacher commented.
At the end of this Camp, pupils were asked to share their experiences. Sixth grader Yang said that he started to practice Falun Gong last year. When he first started to practice, he experienced sore arms and painful feet. However, that discomfort soon disappeared. He had a pretty bad temper before and could easily lose control of it. Falun Gong helped him to make a breakthrough on this. Now, when his mother asks him to help with some chores, he no longer develops a bad mood, and he doesn't get angry with his little sister any more. Another pupil, Shen, said that Falun Gong has helped him to do well in his studies and he now memorizes things faster and more easily.
The host of the camp, Ms. Pan, is a teacher from Dongping Elementary School of Taichung County. She said that all members of her family practice Falun Gong. As a schoolteacher, she noticed that nowadays there were more temptations from society. However, after children learned Falun Dafa, they would have a criterion in their own hearts to differentiate good and bad. Consequently, managing a class with young practitioner pupils has become much easier. As a parent, she is also very glad to see that her daughter's health condition improved significantly. Her daughter is now an excellent student, and won't compete or fight with her fellow students, and thus many classmates look up to her. All this happened after they started to practice Falun Gong. She thus hopes that all parents can enjoy the same happiness she does.