Poland: Freedom of Expression in Poland Challenged by Chinese Embassy Officials (Photos)
(Clearwisdom.net) While Chinese and Polish leaders were having a summit inside the Polish Presidential palace, in front of the compound, some Chinese who were welcoming the Chinese delegation harassed people who at the same time were conducting a peaceful appeal. The Polish newspaper Gazeta Wybocza published an article about this incident in its June 9 edition's front page. The article said that a group of Chinese people "armed" with red banners tried to block Falun Gong practitioners' "Bring Jiang Zemin to Justice" banner. An official of the Chinese Embassy confirmed that these people were sent to the site by the Embassy.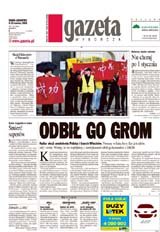 Chinese people dispatched by Chinese Embassy try to block Falun Gong practitioners' banner, Gazeta Wyborcza reported
Ms. Weiz, a western Falun Gong practitioner who appealed in front of the Presidential palace, said; "About 30 Chinese dispatched by the Chinese embassy were pushing practitioners and other people who were appealing. They used Chinese national flags and other "welcome banners" to block the practitioners' banners. They muscled their way to the front and tried to force us to step back while cursing us. They tried to intimidate us and force us to leave. As we practitioners practice, "Truthfulness, Compassion and Forbearance, no one fought back, but we tried to compassionately explain what we were doing to those Chinese: We just want to demand the basic right to practice Falun Gong in China without persecution. Their aggressive behavior attracted many passersbys' attention; many came to us to check what was going on. After learning the situation, some of them stayed and helped us to hold banners."
A Warsaw civilian helps practitioners hoist Falun Gong banners in front of Polish Presidential Compound
The Polish Metropolitan reported that "A supporter of the Chinese government robbed human rights organizations and Falun Gong practitioners of their banners." What actually happened? An official from the Chinese delegation came up from behind the practitioners and to their surprise he grabbed two banners practitioners were displaying and then ran away. One of the two banners read "Truthfulness, Compassion and Forbearance." Ms. Weiz was shocked by such bad behavior. That night, Polish Falun Gong practitioners went to a police station to charge the Chinese officials for using violence to interfere with Polish civilians' freedom of expression and for stealing private property.
Chinese official runs way from the site with Falun Gong banners that he stole from practitioners
An attorney who is also a member of a human rights organization witnessed the incident and he said the scene made him feel that he was in China. Seeing Chinese officials using Chinese style persecutory measures in western countries to suppress freedom of expression, he voiced his deep concern about the human rights situation in China.
This attorney has a very strong interest in Asian culture. When he was studying in Holland, his professor's wife practiced Falun Gong, so he got a better understanding of Falun Gong which has been persecuted by Jiang's regime since July, 1999.
He said that to the best of his knowledge, Falun Gong was a practice that promotes physical and spiritual improvement, but the Jiang regime views it as a threat to its political interests. He disagreed that this was the case, and said he had never heard any Falun Gong practitioner make political statements about China, and that all practitioners want is a peaceful environment to practice Falun Gong. In his opinion, persecuting such a peaceful group is unacceptable, and he expressed his willingness to help them wholeheartedly.
This lawyer has indeed helped practitioners in a lawsuit against Bo Xilai, the Chinese Minister of Commerce. The lawsuit was reportedly filed upon Bo's arrival on June 8. The attorney said the lawsuit was based on Polish Criminal Law and the UN Human Rights Covenant, as well as the International Anti-Torture Convention, both of which were ratified by the Polish government.
The attorney also pointed out that whatever the result of the lawsuit will be, the lawsuit itself will cause a sensation among the Chinese population. When they visit other countries, those high-ranking Chinese officials will have to think about whether or not they will face lawsuits for persecuting Falun Gong. This will help them to reconsider what they have done and do better in the future.